January 21, 2006
I'm a lucky man
Have I mentioned how great my wife is lately? No, well she is. You want to know why? After reading my post about Winchester closing down, do you know what she did? She took me out today and bought me a Winchester model 94 .30-30. How can you not love a woman that trusts you enough to buy you a firearm? She definitely is the greatest!
Since I was out and about and obviously someplace I could buy ammo, I figured I should. Especially since I'm going to go shooting tomorrow.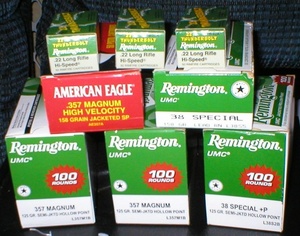 I got all of that for under $100.00. For those of you trying to count, and I know at least a couple of you are, that is: 250 .357 rounds, 150 .38 special rounds and 150 .22LR rounds. That makes a grand total of 550 rounds. That should last about 2.5 hours at the rate I shoot.
Jealous, aren't you? (of both the wife and the ammo.)
Posted by Contagion in General at January 21, 2006 06:23 PM | TrackBack