March 31, 2006
Normally I don't believe in this, but in this case...
For all of you conspiracy theorists and fans out there I found a conspiracy so dark, so foul, so immoral that it's hard to explain. Here's a brief description of how wrong this is:
"I first discovered their dastardly plot back in high school, but just like when you accidentally walked in on your grandparents having sex -- ugly, sweaty, disgusting sex -- I haven't had the courage to talk about it. Until now."
I could go more into this conspiracy, but I don't think I could do the justice of the original post. After reading this, I will tell you, I don't care if they do have adds like this: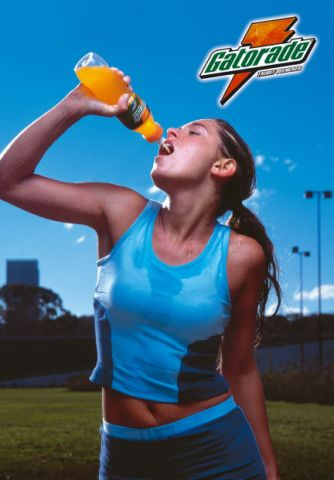 I'll quench her thirst
I'm never drinking from a Gatoraid bottle again!
"The bottle that contains the most popular sports drink on the planet looks like a big, thick, throbbing penis, from the clearly defined and strangely textured head to the perfectly tapered shaft. The only thing missing are a few well-placed veins."
Go over to Basketbawful and check out The Gatorade Conspiracy to see what I'm talking about.
Posted by Contagion in Shenanigans at March 31, 2006 07:27 PM | TrackBack