May 29, 2006
The end of the world is not nigh!
My streak is alive and running. We had rain on Saturday! I knew it was all a practical joke! There is no way that my re-enacting on Memorial Day weekend is not going to pull down the wrath of Mother Nature on poor even coordinators that were foolish enough to let me set up camp! So, yes once again it rained on Contagion while re-enacting.
On the upside it was only on Saturday, when the temperatures were in the 90's with 90% humidity. The rain was welcomed with the joy that only a re-enactor wearing wool and black canvas on a hot miserable day can understand. While the public was fleeing for shelter, every re-enactor I saw was relishing the rain like a nice long shower. Unfortunately, between the sweat, funk and sun block I don't think a one of us actually got wet. Our natural water repellent kept us dry. Water was bending around us like light through a prism.
I would love to tell you more, but I'm baked. (Not from Drugs.) We packed and loaded the vehicles in upper 80 temps. I drove all the way home from Fort Atkinson (about an hour and 15 minutes from my house) with no AC so I could conserve on gas mileage. Then just unpacked the vehicles. But I did get some serious sun this weekend. Check out this nice sunburn. If you look closely you can see where my bonnet was as there is distinct line between burnt and unburnt flesh.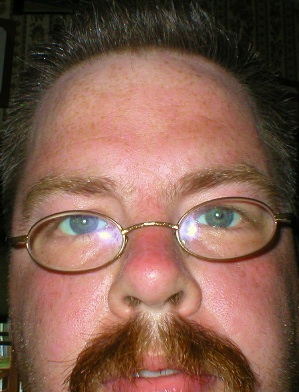 Once I've recouped I'll give you all a worthy breakdown of what happened. Boy do I have stories for you!

Posted by Contagion in Re-enacting life. at May 29, 2006 07:12 AM | TrackBack