August 01, 2006
Whiskey in the Barrel.
After our two fun filled days in Kentucky we headed to Tennessee. Contrary to comments made, the sun does shine bright in Kentucky. My Scotch/Norwegian legs just don't take to tanning. They burn, peel, freckle and start over just as pasty white as they where before. Be thankful that they are hairy, less you would go blind from the sun reflecting off them.
After passing through Nashville, which no offense to any of my Tennessee readers is cesspool of what is other ways a beautiful state. I might be mistaken, but I'm pretty sure the rest of Tennessee ships its garbage to Nashville for storage. We were much pleased once we had finally exited its foul limits and onto the Holy Land. Well, okay for me it's the holy land, Lynchburg, Tennessee. It is the home of Jack Daniel's Distillery and the oldest registered distillery in the United States.
This was a stop that I wanted. I had been trying to visit for years and it just never happened. When we were planning our vacation this year, I put down my foot and said, "We re-enact as a distiller, we should do the Jack Daniel's Distillery… for research." Yea, Ktreva didn't buy that either, but she still agreed to go. Upon arrival I was like a kid at an amusement park. I could barely contain myself. I was bouncing all over the place trying to speed up the family so we could get inside and start the tour! While we waited for the tour, we spent some time browsing the museum.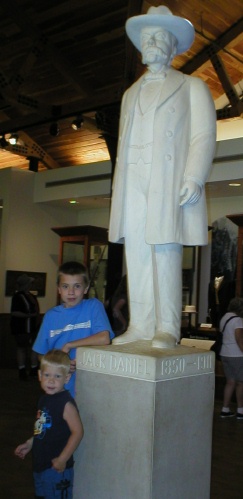 Boopie and Clone in Front of the famous Jack Daniel's Statue.
We were led on a tour of every aspect of the Jack Daniel's distillery. Everything from them making their own charcoal from Tennessee Sugar Maple to the final bottling process was a part of the tour. Some of the original buildings are still on the site, like the first office, and we were able to see those. We also where able to see the natural spring that all Jack Daniel's fine Tennessee Whiskey is made from.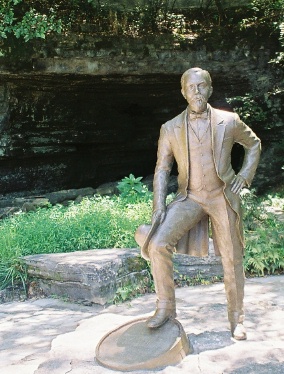 The grotto in behind this statue of Jack Daniels is where the spring comes out of the ground.
We learned many different things while we were in god's country the distillery. Such as you can buy an entire barrel of Jack Daniel's and they will ship it to your local retailer for you after they bottle it. You receive a personalized neck medallion, a special label, the actual barrel that the whiskey was made in with a brass plague and framed certificate of ownership. For those of you curious that makes about 240 750 ML bottles of whiskey.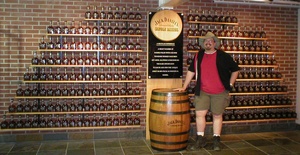 Click to Enlarge
Here I am standing with a barrel and all the bottles of whiskey that came out of it.
Of course it's not exactly cheap. According to their website it costs about $8,400 to $9,600 purchase one. (Depending on the state you are in.) The tour guide had me sold on a barrel as soon as he started talking. When he came to the price, I did the math in my head and figured that in Illinois a bottle of Jack Daniel's Single Barrel is usually about $40.00… it was worth it! I looked over to Ktreva all filled with excitement. Before the words could even come out of my mouth she says, "We are NOT buying a barrel of Jack Daniel's!" It's not like I was going to mortgage the house… I was just going to drain the kids' college funds! I mean if you think about it this way… That is almost a two-year supply of Jack Daniel's for me. I couldn't go wrong with that! Later in the tour we did learn of some of the people that bought the entire barrel.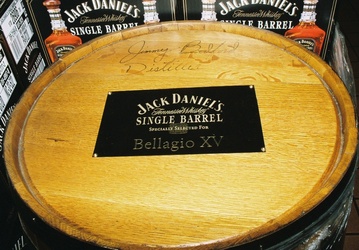 Click to Enlarge
Lucky Bastards!
After the tour we went to the White Rabbit Saloon for lemonade. At this point I must point out that Jack Daniel's is in a dry county. You cannot buy a drop of liquor there. The only samples of Jack Daniels we could get where sniffing the fine product dripping through the ten feet of charcoal, and when the tour guide pointed out that one of the barrels in the barrelhouse had a slow leak. I think every guy on that tour was licking their fingers as they left the barrelhouse. However, the state, in anticipation of me, passed a law that would allow the distillery to sell commemorative bottles of Jack Daniel's. Of course I ended up buying a couple. Then, for a surprise of all surprises, Jimmy Bedford, the master distiller himself, was in the saloon. I had him sign the two commemorative bottles I own.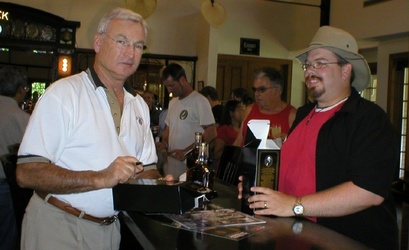 Jimmy, Me and my bottles of J.D.
After we finished up in the distillery we walked into the historic downtown Lynchburg. We went through many shops, bought souvenirs, and had a good ol' time. I even bought myself a Jack Daniel's dispenser made out of an actual barrel used to make Jack Daniel's in. And yes it is signed by Jimmy too…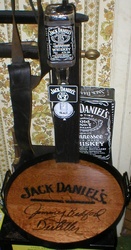 Click to Enlarge
Ktreva even got into Jack Daniel's fever. She found herself some Jack Daniel's Martini glasses (Even though she's going to be drinking nasty appletinis out of it) and for dinner she ordered herself a Jackarita (A Margarita made with Jack Daniel's). Boopie made the announcement that Jack Daniel's is his favorite whiskey. (I don't think he's ever tasted a drop). Contrary to what some might believe, the entire family had fun at the distillery. It was probably the most popular stop we made with everyone.
Tomorrow, we head to Shiloh!
Posted by Contagion in Family Life at August 1, 2006 06:25 PM | TrackBack