September 06, 2006
Boddingtons Pub Ale
This week I decided to try a Boddingtons Pub Ale. Since I have never tried this beer before, I wasn't sure how it would drink. Mainly I picked it because it was on the shelf next to Guinness and Murphy's. Since Guinness and Murphy's are two of my favorite beers, I figured this couldn't be too bad.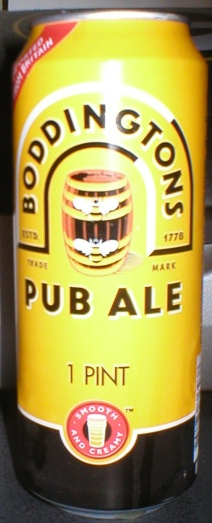 It comes in a 1 pint yellow can with the name of the beer on it in black letters. There is a picture of a barrel that has two bees overlapped on it. On the back of the can there is a little history of the beer as well as a description of it. They also go into the superiority of the draughtflow system they use in the can. They also have directions on how to serve the beer. Guys, do you ever read the directions on how to serve a beer? Neither did I. Guess what, it's the same as any other beer that comes in a can with any Nitro-can. True beer drinkers don't need directions on how to pour a beer.
The beer pours a straw yellow/pale gold color. Light has no problem passing through. Upon first pouring it, the beer is mainly head, but it settles quickly. The head is a nice creamy white that settles like Guinness. There was minimal lacing on the side of the glass, but the last of head sticks around for a while.
Upon opening the can you can smell hops. There is also a slight grassy scent to it. It's not unappealing, just kind of surprising. The taste is of your Standard English Ale, malts and hops. There is a slight sweet taste to it. It's just enough to enhance the beer and not overpower it. There is a very slight aftertaste at the beginning, but as the beer warms it becomes more bitter and there is more of an aftertaste to it.
It has a light body to it. The texture is very smooth and creamy. It's probably one of the easiest beers to drink I've ever had. The pint glass disappeared in less then 10 minutes with a desire for a second. I can see walking into a pub and ordering a couple of pints of this while speaking with friends. Five hours later you've downed a good 10 pints and are still drinking the same beer. This is a good anytime beer.
It's not amazing, but it is slightly above average. I'm going to rate this a 6.
Posted by Contagion in Alcohol at September 6, 2006 06:22 PM | TrackBack