February 28, 2007
February 27, 2007
February 26, 2007
My government wants to make me a criminal
While at work today I received a call from my friend Giles (I wonít post his real name with out permission). He was the leader of my old re-enacting group. He asked me if I went to a local gun show here in Rockford yesterday. Grau, Shadoglare and my buddy from work J-man all went. Giles asked if I had heard anything about IGOLD while I was there, I didnít recall hearing or seeing a thing. IGOLD is the Illinois Gun Owners Lobby Day. He then asked if anyone said anything about the new Illinois gun ban that Mayor Dailey of Chicago is trying to get pushed through legislation with support of Governor Blagojevich. Which I hadnít heard anything about either, I did hear about the renewal of the assault weapon ban. But he assured me that was NOT what he was talking about.
Giles has a Federal Firearm License as part of his business doing movie special effects. To be honest Iím not EXACTLY sure what all he does, he seems to do about everything. Iím sure if he reads this he would be more then happy to comment a list of his many talents. Anyway, he told me he received a letter regarding IGOLD because Daley is trying to get ALL firearms banned in Illinois. Iím not talking about the just the seven ban targets that it seems all anti-gun people want. From what Giles tells me, Daley and Blagojevich want to use Illinois as a test ground to get all 7 passed this year, as well as throwing in some other items, that would pretty much make owning a firearm in the state of Illinois Illegal. They are even talking about not putting in a Grandfather clause. Thus honest upstanding citizens like myself would be turned into criminals.
At first I thought maybe Giles was upset because this would severely hurt his business and maybe even cause it to shut down. But after doing some digging Iíve found other things that hint to this nefarious deed. The Illinois State Rifle Association on their main page has an article about IGOLD that states:
ĒMany of you are aware of the present legislative danger we are all in. For those of you who are not aware, if Mayor Daley and the anti-gun crowd have their way Illinois gun owners will become extinct, non-existent, gone, history, no more. Mayor Daley has vowed to rid the state of guns and he makes no distinction between the illegal firearms wielded by the violent criminals and gang members of his city and those firearms owned by law-abiding, peaceful Illinois citizens.Ē
Emphasis Mine
I really wish I had a copy of the letter Giles received so I could put it up for everyone to read, but he loaned it to a friend and it hasnít been returned to him. He told me it stated that if firearms werenít turned in with in so many days of the law passing that the owner would have criminal charges pressed against once honest citizen. There would be no compensation for any firearms turned in.
Many people are going to start throwing around the Second Amendment, ďA well regulated Militia, being necessary to the security of a free State, the right of the people to keep and bear Arms, shall not be infringed.Ē People, the Constitution and its amendments are all fine and dandyÖ as long as our government upholds it. Anymore I donít see any politicians actually upholding the Constitution. Our leaders want to take our rights away. Iím not talking Democrats; Iím talking all politicians. What they want to strip from us depends on which party line they are toeing up to. So I have no faith that ďthe lesser of two evilsĒ elected officials we have will actually uphold the Second Amendment.
IGOLD is Wednesday March 14th. I am tempted to take a couple of days off of work, get a hotel room and travel down for it. I really canít afford to miss the time from work, but I feel strongly about this. Iím going to see if I can get some time and maybe at least drive down for the afternoon information and just drive back that night missing the evening activities. Maybe Iíll show enough support doing that to help.
Yesterday at the gun show, I really wish I had made a purchase that I had wanted to.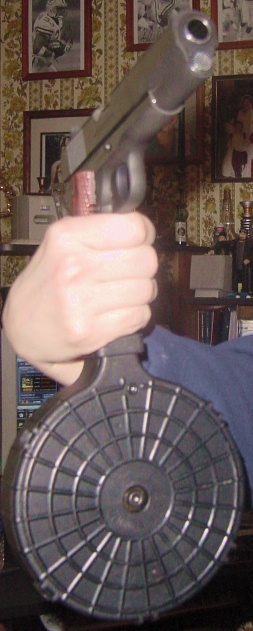 Iím not thinking 40 rounds of .45 will make a big difference, but it might hold Ďem off for a while. Now excuse me while I go rent an apartment in Wisconsin to use as an oversized gun locker.
February 24, 2007
February 22, 2007
February 21, 2007
February 20, 2007
February 17, 2007
February 16, 2007
February 14, 2007
February 13, 2007
February 12, 2007
February 10, 2007
February 08, 2007
February 07, 2007
February 06, 2007
February 05, 2007
February 04, 2007
February 03, 2007
February 02, 2007