August 31, 2008
Where in the U.S. is Contagion now? UPDATED!
I left Tulsa yesterday morning and drove to Oklahoma City to meet up with Rave and Mr. Rave. First we went to the Belle Isle Brewery. They had four beers that they made on tap. They weren't bad, but honestly not overly impressed with the beer. I was more impressed with the quality of company that I had. We talked, shared stories and then Rave told me we were going to go to another brewery they had in town.
We then headed to the Bricktown Brewery. We arrived there after a quick tour of the Bricktown area of OKC. The story was that we were looking for parking spaces, but honestly I think it was because Rave knew I was low on gas and was trying to drain my tank. hehehe, just kidding. She was looking for free parking. There was some kind of event going on so they were making people pay to park.
We went inside and drank some more beer and continued to chat. I really can't tell you much about the beer here. I had drank so many other beers at the first brewery that my taste buds had been tainted. But from what I tried they had a couple of really good ones. We continued to talk for a while and then They had to return home due to Little man's issues.
After leaving them I made my way to Irving, TX... yes Texas... to visit Bloodspite in prison. Okay, he's not really in prison, but it kind of seems that way. They are confined to this campus that looks like a bunch of apartments. They have no personal vehicles and are not allowed to use company vehicles for personal use. Their rooms don't have stoves, microwaves or anything to heat or cook food. If they want a hot meal they have to go to the cafeteria. Unfortunately the cafeteria isn't open on the weekend.
Then there are no restaurants for a mile. If they want to get to a restaurant or store they have to bribe an instructor to take them or pick stuff up for them during the week. On the weekends they can get a taxi voucher, but that's only on Saturday or Sunday. Friday night when the cafeteria closed early they where stranded with no food and no way to get anything.
Then to make things worse they live in a dry county, so they have to travel to get beer. Needless to say Bloodspite and his work companions were more than happy to have me show up with two cases of beer, which just barely fit into the fridge. Now today we plan on drinking beer, talking bullshite and probably drinking more beer.
Bloodspite got a picture of the fridge before we started doing damage to it. Click onto the extended entry if you are truly curious.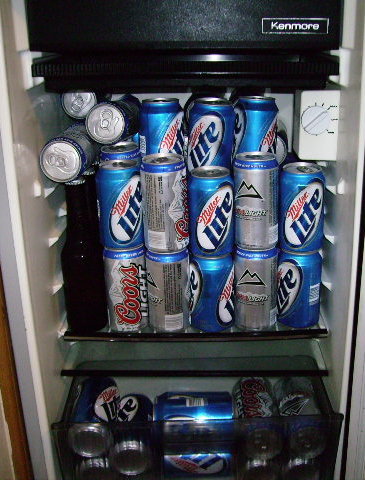 Yep, the entire fridge is full, The door, the crisper, everywhere is filled with beer!
August 29, 2008
August 27, 2008
August 26, 2008
August 25, 2008
August 20, 2008
August 19, 2008
August 18, 2008
August 13, 2008
August 12, 2008
August 11, 2008
August 09, 2008
August 07, 2008
August 06, 2008
August 05, 2008
August 04, 2008
August 03, 2008