October 21, 2009
In-Heat Wheat.
Tonight I will be reviewing a beer by first time donator, Wes of Bodhran Roll, Please. He actually gave it to me a couple of months ago; Iím just now getting around to being able to review it. Tonightís beer is In-heat Wheat Hefeweizen Ale by Flying Dog Brewery in Frederick, MD.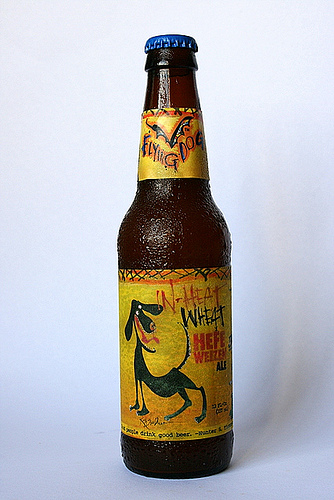 We have our standard 12 oz brown bottle. There is a yellow label with a cartoonish picture of what appears to be a mildly retarded dog. The name of the beer is in some kind of scrawl next to the dog. On the neck label is the flowing dog logo. At the bottom of the main label it has the quote, ďGood people drink good beer. ď ĖHunter S. Thompson.
It has a nice golden honey color to it. There is a haziness to it that is so thick that you canít see through the beer. Light passes through, giving it a nice glow. Almost no head formed when poured. I even added a bit of an aggressive pour towards the last quarter of the bottle. What head formed was white and faded quickly to nothing. There is no lacing on the glass.
When you take a whiff of the beer, you get a combination of wheat and grains. There is a banana undertone with just a hint of citrus. The scent is less than pleasant. The taste mainly consists of bananas, cloves, wheat and a slight bitter hop finish. The after taste reminds me of eating Cheerios with green, unripe bananas on it.
It is a medium bodied beer; there is no coating to the mouth. The carbonation is a little heavy for my tastes and bites on the tongue.
This is a standard American Wheat beer done in the Bavarian Hefeweizen style. It isnít something I would go out of my for, and to be honest, it took drinking half of the beer before the flavor got to something that didnít bother me. This is definitely not a beer I would recommend to friends or even to a stranger at a bar. I give it 3.5 out of 10.

October 14, 2009
October 07, 2009
October 01, 2009