April 27, 2010
Bell's Sparkling Ale
Tonightís beer is one that I picked out myself when I was at Bellís Eccentric Cafť In Kalamazoo Michigan. One of the beers I chose was Bellís Sparkling Ale by Bellís Brewery in Comstock, MI.

It comes in a standard 12 oz brown bottle. There is a white label with a bluish/green border. There is a symbol in the middle that looks like a golden S with wheat and hops wrapped around it. The back label explains a little bit about the beer and states the beer has a 9% ABV.
It pours a nice golden amber color. Light passes through, but there is some haziness to it. A quarter inch white foamy head formed, but it faded quickly to a ring around the edge of the glass. There is some very minimal lacing. .
The smell starts off with a yeast scent that is quickly overcome with a strong sweet fruit scent. Citrus, pear mix to form a kind of pineapple smell. There is a touch of spicy hops to it. The flavor echoes the scent. A fruit flavor of pear and grapes. There is a nice touch of coriander and cloves. A slight grassiness rounds out the flavor. For having such a high ABV, you canít taste the alcohol.
This is a medium bodied beer with strong carbonation. There is a slight creaminess to it that coats the mouth.
I enjoyed this beer. I donít know that I would drink too many of them in one sitting, but I could see enjoying one or two with friends. I think this is definitely a good outdoor beer, sitting on the porch or around a campfire. I give it 5.5 out of 10.

Third Annual Miasmatic Review Beer Tasting
I meant to put this up a couple of weeks ago, but I forgot. In case any of you where wondering, the Third Annual Miasmatic Review beer tasting will be happening on Saturday, May 29th. If you are interested in attending either leave a comment on here or send me an e-mail to Contagion_1 At Yahoo Dot Com.
Iím not sure what the beers will be this year, but this is what I do know. I will be following last yearís format. We will be sampling ten beers. It will be broken into three flights of three similar or related beers. The tenth beer will be a mystery beer and the person that comes closest to identifying it will win a Miasmatic Review Enabler glass.
There will also be bacon explosions and other meat products for post tasting enjoyment.
I hope to see you there!

April 14, 2010
Beer 30 Light
Tonight we get our next full enabler! My Blogless buddy Wil has donated his twelfth beer, hence earning him an enabler glass! This means I have two enabler ceremonies I have to conductÖ. or a double one! This is a beer he found last weekend while picking up provisions for our Fort De Chartres re-enactment. Of course when he saw this beer he just had to buy it for the name. So tonight, we are getting back to the roots of my beer reviews as we review Beer 30 Light brewed by the Melanie Brewing Co.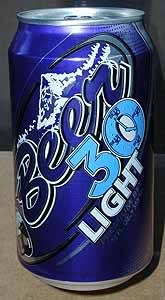 It comes in a purple 12 oz can with the name in cursive writing in an oval the zero in the 30 is a clock. Under the ďlightĒ it states ďPremium LagerĒ. To be honest, the can lies! The first warning should have been is that the can is purple.

It pours a golden straw color. It is opaque, light passes through easily and you can make out objects on the other side without any difficulty. It poured a good finger inch thick head, but it faded rapidly to nothing, not even a film on the top or a ring around the edge. There is absolutely no lacing at all.
The first then you notice when you smell the beer is a mix of cheap malts of the corn and cereal variety. There is a touch of alcohol to the scent. To be honest the scent reminds me of my dorm room when I was in collegeÖ at the end of the year after all the spilled beer has had a time to go stale. The taste is much like the scent, Corn, cereal grains and a slight metallic taste. The metallic taste Iím pretty sure is a result of it coming in an aluminum can, at least I hope so. It reminds me of a beer thatís gone stale. The aftertaste also has a metallic taste to it.
This is a medium bodied beer. There is a slight carbonation.
This beer was purchased just for the name of it, kind of like a novelty? We always joke that we think its beer thirty. Of course it didnít hurt we got a 30 pack for under $12.00. When we first tried this beer we had already had a couple of other beers first and didnít think it tasted too bad. Now today as I sit here drinking it on its own without any thing altering the pallet and I have a completely different opinion of this beer. This beer reminds me of something I would have bought in college because itís all I could afford. As a grown man, I donít think Iíd buy this beer again, no matter how cheap it was. I give it a 2.5 out of ten.