December 11, 2006
Ginger Bread Houses.
We had a full weekend here in the Contagion family house. Saturday Ktreva and I took Clone to do some Christmas shopping. Folks let me give you some advice, if you are going to go shopping at crowded stores with packed parking lots; donít drive the extra long pickup truck. With almost no available spaces and people parking like idiots, itís really hard to navigate in and out of the spaces. At a local Best Buy store not only are the spaces narrow so they can squeeze more cars in, the lanes are narrow as well.
When we came out of the store I had two cars parked so close to me I could barely get the doors open wide enough to climb in. I also had to make a 54-point maneuver to get out of the stall with out hitting anyone. Thatís with me getting less then an inch away from the cars around me.
After shopping we took Clone to Midway Village for a Victorian Christmas Traditions show. It wasnít exactly what I thought it was going to be, I was hoping for more into the Victorian era customs surrounding Christmas. They did go into some, but it was more of a fun thing for kids. At the different buildings the kids were able to do different Christmas crafts. At the Printers, Clone was able to make a Christmas calling card with his name on it with an authentic 1800ís printing press. The Hardware Store had curled paper snowflakes. In the bank Clone made a Christmas ornament out of candy, string and tissue paper. Which was fun at first, but he got bored with rather quickly when we wouldnít let him eat the candy.
In the Blacksmith shop he properly told people what the smith was doing, much to the surprise of the smith. I just explained weíre re-enactors and he sees smithing all the time. We skipped the cornhusk dolls and the yarn angels. Clone really had no desire to do any. At the hospital he had cookies with Father Christmas, AKA Santa Clause. Except it was the historical Father Christmas. He was tall, thin and wearing a green coat. Not the Coke-a-cola version we are all used to today.
In the houses they had them all decorated for a Victorian Christmas. The trees had candles, bows, and homemade ornaments. There was garland ropes and holly held in place with red bows and ribbons. It was really neat to see. At the last house we stopped in they were making gingerbread houses. I wish they had gone into some history behind gingerbread houses, but when I asked one of the volunteers she looked at me as if I had asked her to list pi to the 874 place. Clone had a lot of fun with this. He made his very first, and probably last, gingerbread house. I think what he had the most fun with was making a mess.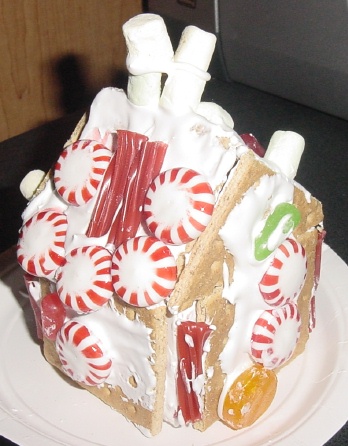 Yes, thatís frosting and not glue holding it together.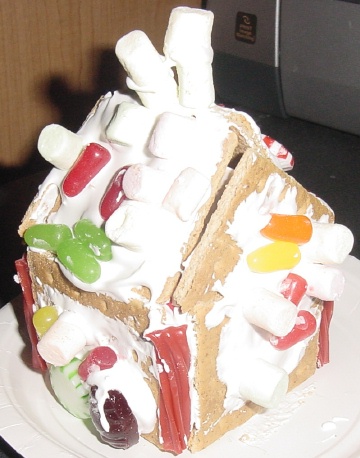 I know; thatís a lot of frosting.
For once Clone actually sat down and did a craft for almost 30 minutes. He had fun smearing the real frosting (Egg whites, powdered sugar and cream of tartar) which was great until the frosting dried. At that point it hardens into a concrete like substance. That is why they use it for gingerbread houses. Its mortar you can eat.

We finished our day at the village with a horse drawn sleigh/wagon ride around the village. It was a little cold, but with all of us huddled together under lap blanket it really gave you that winter sleigh ride feeling. The horses even had jingle bells.
After we left there we bought a Christmas tree. We set a record this year. We found the perfect tree in less then 5 minutes of arriving. Clone is very excited over having a tree in the house. Now the fun of keeping him away from it starts.

Posted by Contagion in Family Life at December 11, 2006 06:32 PM | TrackBack