January 01, 2007
Standings.
The 2006 NFL regular season is over. That means that my Pro Football Pick'em and Salary Cap Football league is over. That brings me to won what.

Pro Football Pick'em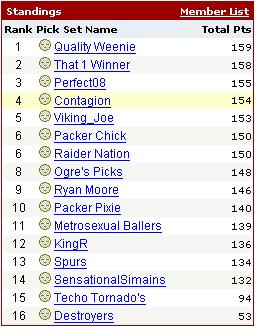 As we can see, our very own Michelle of Quality Weenie is the Winner. With That 1 Winner taking a close second. Yea, I came in fourth, I picked really bad last week.
Salary Cap Football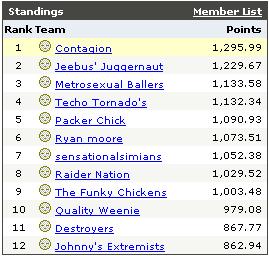 That's right, I won this one by a 65 point lead. I'd like to thank LaDanian Tomlinson, The Bears Defense, Donovan McNabb and Marques Colston for all the insane amount of points they gave me this year. If it wasn't for all your hard work and efforts, I wouldn't have won. Oh, I guess I should point out that Jeebus' Juggernaut came in second.
I will have to give special mention to T1G for his efforts in both leagues. Taking second in both is a notable accomplishment. I'm interested to see how he does next year.

Posted by Contagion in Football at January 1, 2007 12:08 PM | TrackBack