August 31, 2007
Done and Done!
Well I decided to go out and do it. With all the talk about wanting to get it done and actually having some time today, I had my upper ear pierced... twice.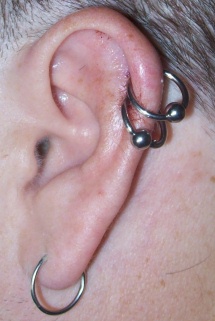 Yea, my mother thinks I'm having a mid-life crisis.
What's funny is that apparently I'm a bleeder. It didn't hurt much more than giving blood... which is what I ended up doing. They used 16 gauge needles to get the size rings I wanted. When they pushed them through my ear I could feel something run down ear and drop onto my shirt. The girl that did the piercing was all nice and grabbed some paper towels to help stem the flow of blood. half an hour later the bleeding stopped and they where able to get the second one. That one didn't bleed anywhere near as much. As I told them, I guess you drained it all on the first try.
Right now it's a little sore, but overall it's not bad.
Posted by Contagion in Stories about me. at August 31, 2007 03:19 PM | TrackBack