June 07, 2008
Pissing the game away
Not that I play golf, because I don't, or that I would have this problem, because I wouldn't, but I found this interesting. The Uroclub.
How many times has this happened? You arrive at the golf course, and soon you're on to 18 holes with your best buddies. After drinking sport ades, water, beer, and whatever, you're on the 3rd hole with no rest room in sight. There are no trees or bushes around and you just gotta go, what are you going to do?
Basically it's a piss can made to look like a golf club.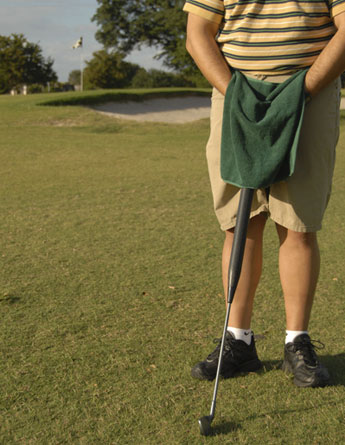 Every aspect of this piece of equipment has been meticulously worked out to make it simple and trouble free to use. To start with, the UroClub™ is designed from a light weight resin with a molded grip. The cap opens and closes easily and is designed with a triple sealing system to ensure that it is leak proof.

The privacy shield hooks to the sides of the pants or belt and adds stability. This allows freedom of the hands to manipulate the club and zipper.

The entire club is made of a non-porous material. Therefore, caring and cleaning is effortless!

The UroClub™ is intended to eliminate anxiety and any feeling of uneasiness on the course. It can be emptied at the nearest restroom or later on, when the golfer returns home.

Capacity: Over half a liter, twice the volume commonly urinated.

Length: Like a standard 7 Iron

I give them credit for the genius behind the idea, but honestly when I did golf and something like this happened to me... I really did just pee in front of everyone. I maybe shy, but my bladder is not.
Posted by Contagion in Things I find interesting at June 7, 2008 09:43 AM | TrackBack