July 07, 2008
Golf, Water Slides and beer.
Even though our vacation didnít go the way we had originally planed, we still had a damn good one. On Monday we wanted to get together with lovely, talented and charming Tammi of Tammiís world. Sheís up and leaving us Northern Illinois folks for greener pastures. I donít blame her; it just sucks as she makes the best Mexican Manicotti. That and I love to sit and talk with her. I know Ktreva feels the same way, about the talkingÖ not the manicotti. First we went to lunch at Der Rathskeller. After lunch Ktreva and Tammi went clothes shopping and I took the boys to Volcano Falls for some mini-golf and go-carts. Clone was big enough to drive the kiddie carts by himself this year. He was THRILLED!
On Tuesday we took the boys to Coco Key Water Resort. We have two water resorts in Rockford, Magic Waters and Coco Key. The boys chose to which one we went. Coco Key is an indoor water park and the boys figured that it would be less crowded. Boopie also figured Clone would have more fun as itís more geared to younger kids. The whole family had fun. We spent over 6 hours there swimming, riding the slides, floating in the lazy river or just sitting in the hot tub.
On Wednesday we loaded up the family and headed to Macomb, IL. Ktreva had been asking since weíve been married to go to Macomb. For those of you that donít know, I graduated from Western Illinois University. I tell stories about it all the time. Ktreva wanted to see where these stories took place. We drove around and I showed them the residence halls I stayed in, took them into the student union, showed them some of the houses that held parties we frequently attended. ETC.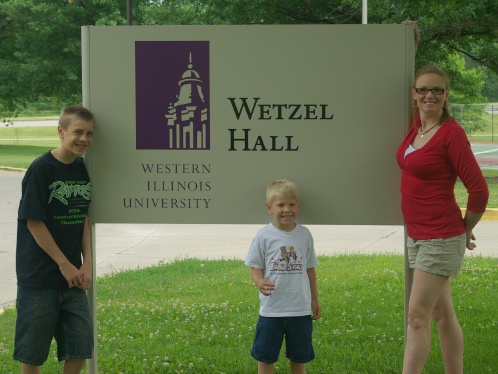 Here the family is posing next to the sign for Wetzel Hall. Itís the dorm I lived in as a freshman and sophomore. That night I took them to my favorite Pizza place for dinner, Aurelioís. The pizza there was just as good as I remembered. After dinner the family wanted to see a movie so we went and saw Hancock.
Thursday before we left we ate lunch at a place on the Macomb Square that advertised Chicken Lips. Ktreva asked me what they where, but since this restaurant was new since I attended college, I had no idea. We decided to stop in for lunch. If you want to know what Chicken lips areÖ youíll just have to go to Chickís on the Square and get some for yourself.
After leaving Macomb I took the family to some of the places I visited on my canoe trip last month, then we went to Wil and Redís place for the weekend. At this point I really canít go into too many details. As soon as we had our tents set up, Wil started pouring beer down my throat. Between him and Noah they forced me to open and drink 4 of the growlers of Carlyle beer I brought. The only reason I didnít get into the other two is because Ktreva reserved a growler of the Irish red for herself and one of the growlers of stout was for Petey. After the growlers were gone we went through a couple of cases of beer.
On the Fourth of July, Wil hosted a Beer Tasting for some of his friends and family. It turned into quite an affair. I really wish I could go into more details, but the details get really fuzzy. I do know that at one point I was yelling at someone over their review of a beer. Three of the members of the Blue Grass Band Noah belongs to showed up and played some music. Boopie and Clone set off some fireworks. And then a bunch of Noahís drunken friends showed up. Good times, good times.
The family and I ended up staying until Sunday. I was figuring Wil and Red would have booted us off of their property by then, but they encouraged us to stick around. We had a couple more cases of surplus beer and some surplus food that needed eating. So we hung around, the boys played on rock piles and we were able to visit and talk with good friends we donít get to see too often. It was one hell of a good weekend.
Although I do want to know how Noahís band did on Saturday night. They had a gig at a local bar with other bands. The only problem is that the other bands were all metal bands. I waited up Saturday night for stories, but he just never came home.

Posted by Contagion in Family Life at July 7, 2008 06:20 PM | TrackBack