August 20, 2008
Wernesgruner
Tonight is a beer I brought back from Wilís Beer, Burgers, Blue Grass and Butt Juice party on the Fourth of July. I canít remember who supplied the beer; I just know that it survived the trip home. Tonight Iím reviewing Wernesgruner by Wernesgruener Brauerei in Germany.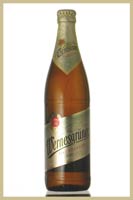 It comes in the standard 12 oz brown bottle. The label is a golden color and is set at an angle. There is the company logo off centered at the top. The neck as a gold foil label on it also with the name of the beer.
There is a pale yellow color to it. Itís clear with no cloudiness to it at all. The carbonation bubbles that float gently to the top can clearly be seen. The stark white head is thick and made up of tiny bubbles. After a while the head fades to just a film on the top of the glass. There is no lacing on the glass at all.
To the nose it has a slight aroma of spicy hops and sweet grass. There is also a touch of grass that can be detected. As the beer warms up you get a more noticeable and enticing aroma. On the tongue it is slightly sweet. A combination of that starts with mild malts is followed by spicy hops. Like most pilsners the flavor is mild and unobtrusive. Just like the scent as the beer warms it tends to open up the flavors making them more noticeable.
This is a light bodied beer with a mild carbonation to it. Itís very easy to drink. This is a good anytime beer or something that you could eat with a meal. The flavor would enhance the flavors of the food without being completely overpowered by the flavor of the meal.
Overall I was pleasantly surprised by this beer. The only thing that I truly remember about it is that whoever brought it picked it up at an Aldi store. Where itís not a great beer, itís not one that I would pass on if offered one. Iíd give it 6 out of 10.

Posted by Contagion in Alcohol at August 20, 2008 07:01 PM | TrackBack