September 15, 2008
Blogcrawl '08 update.
I haven't received much of a response on this years BlogCrawl. So I thought I would tantalize you with some more details. First off, we are going to be shooting at the Buffalo Range in Ottawa, IL. After shooting we are going to head back to my place for a beer tasting, we should be there around 3:00PM. give or take half an hour.
EVERYONE is welcome, just let me know.
Now, I would like to see a lot of people to participate. So please, spread the word. Let's have some fun! Oh, and just in case you really want to know, here is the logo that Pamibe has done for this year.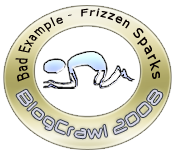 You know you want one of these on your blog! I'm holding onto the designated Driver, Survivor and extra special pimped out Survivor logo!

Posted by Contagion in BlogCrawl at September 15, 2008 06:51 PM | TrackBack