September 19, 2008
Happy Hippie Hunting
I'm going to preface this post with a note for my wife: My darling Ktreva, please do not read this post. I know how you are senstive to my dislike of the soap fearing clans of roaming idiots, but this story was just too good not to share.
In order to get prepared for the BlogCrawl shoot tomorrow, I headed to a local gun store to pick up some 30 round mags and ammo. As I pulled into the parking lot, which is shared with some other local businesses, there were four hippies, tie dies and all. standing on the sidwalk. As I pulled in I was greated with "Hey man, No guns, more fun!" and "Guns are the root of evil."
Of course I just smiled and waved at them. I walked in, picked up my items and as I was leaving there were still there chanting something about the evils of guns. When I went to leave I had to wait for traffic. My windows were rolled down and one of the female protesters asked me "What do you need a gun for?" I couldn't help myself, I responded with:
"It's Happy, Hippie Hunting Time! I'm going to go bait a field with tie dies and pot and see if I can bag my limit."
The ghastly look on her face was classic.
So in honor of the day and the BlogCrawl I present: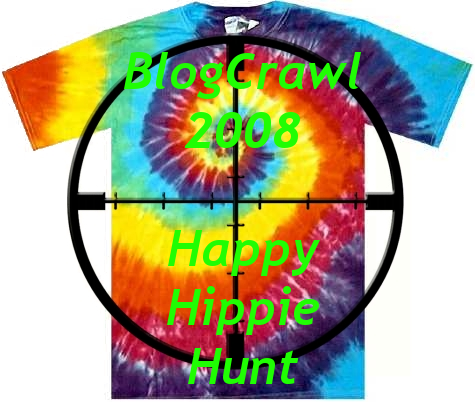 The 2008 BlogCrawl Happy Hippie Hunt!
Posted by Contagion in General assholery at September 19, 2008 08:49 PM | TrackBack