November 03, 2008
Halloween and a Ball.
Halloween was a smash. We had a great time, I have some pictures, I just haven't downloaded them yet, so I'm not sure how they turned out. Hey taking pictures in the dark is difficult!
There was only two things I had issues with on Halloween. I'm not complaining the weather was bad, because it was beautiful. Temps in the 60s, no wind, it was great... if you weren't wearing 4 layers of clothes and a heavy mask with grease paint makeup and latex glue! It was pretty hot. In fact I was sweating so bad that I thought I was going to drown in it. The nice thing is that all the kids could wear their costumes with out bulky coats on. The children where actually able to show off their costumes.
Speaking of costumes that was the other problem I had. There were a lot of older kids Trick or Treating. I'm talking middle school to high school aged kids. Now, I don't mind as long as they are in costumes, and the vast majority of them did. However, the costumes some of the girls were wearing they really ought not to be wearing... anywhere. They are just too young for the "I can't believe it's not fetish wear" costumes. One girl was wearing a pirate costume that she needed to shave in order to wear, and I'm not talking her legs. She was all of about 16... if that. I'm so glad I have boys.
I did get some good scares. Some of them screamed so loudly that a neighbor of mine from a block and a half away came down because, "She thought someone was getting killed". Yea, good times. One group of kids got so scared they all ran in different directions, and I never saw any of them again, so I don't know where or when they ever met up again.
Saturday, Wil and Red picked up Ktreva and I and we all went up to the ONW Colonial Ball in Janesville, WI. Ktreva looked extremely beautiful in a French polonaise dress she borrowed from Red. Her stunning beauty made my frontier heathen dress look even shabbier. Hell, the only thing special I put on was my kilt.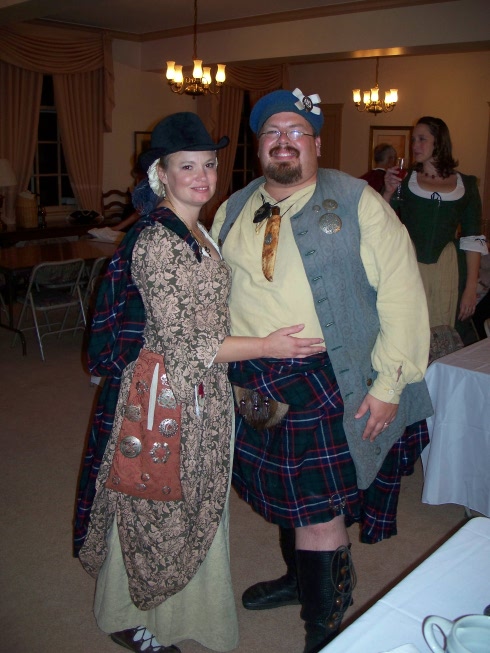 Yea, I just drag her down, but she sure does make me look a hell of a lot better.
The ball is the only time of the year that Ktreva actually gets me to dance with her. Mainly because neither of us dance, and I really don't like to make a fool out of myself. That doesn't stop me, I just don't like it.
We both had a great time. How could we not? We spent 24 hours with some of the best people that have walked the earth.
Posted by Contagion in Stories about me. at November 3, 2008 09:17 PM | TrackBack