November 08, 2008
The neighborhood kids are in trouble now!
Why did they not have something like this when I was growing up? I remember wishing for something like this as a kid. My friends and I wanted a snowball gun for the various snowball wars we got into during the winters growing up.
And now they have one! The 80' Snowball Launcher.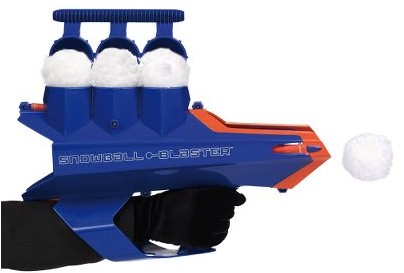 This toy blaster makes and launches softball-sized snowballs up to 80', allowing rapid, long-range assaults during neighborhood snowball confrontations. Simply place snow in the forming chamber and close the lid, and it packs three perfectly spherical snowballs. To blast your mark, place one snowball in the muzzle, aim the launcher, and pull back the slingshot mechanism. Because the blaster is powered by elastomers instead of batteries, it provides uninterrupted, fast-action play. Made of durable, cold-resistant plastic. Includes targets for shooting practice. Ages 8 and up. 17 1/2" L x 5 1/2" W x 12" H. (2 1/2 lbs.)
I may have to pick up four of these, one for each of the family!

Posted by Contagion in Things I find interesting at November 8, 2008 01:34 PM | TrackBack