December 18, 2008
Holy Snow!
All day they have been talking about this huge snow storm that is going to hit tonight. It's been the typical "stir up the panic" campaign from all of the news and weather sources. Even the official weather alert reads horrible.
" ONCE PRECIPITATION BEGINS... IT WILL FALL IN EARNEST AS ABUNDANT MOISTURE IS DRAWN INTO THIS STORM SYSTEM. SNOW RATES OF AN INCH PER HOUR WILL BE COMMON FOR MUCH OF THE OVERNIGHT HOURS BETWEEN MIDNIGHT AND 6 AM ACROSS NORTH OF I-88 AND I-290. SNOW RATES IN THUNDER SNOW COULD BE 2 INCHES PER HOUR OR HIGHER.

TOTAL SNOWFALL ACCUMULATIONS OF AROUND ONE FOOT ARE POSSIBLE ACROSS FAR NORTH CENTRAL AND NORTHEAST ILLINOIS BY FRIDAY MORNING... TAPERING TO 3 TO 5 INCHES CLOSER TO INTERSTATE 80. AREAS FARTHER SOUTH WILL EXPERIENCE SIGNIFICANT ICE ACCUMULATION. TOTAL ICE ACCUMULATION IN EXCESS OF A HALF INCH IS POSSIBLE BETWEEN INTERSTATE 80 AND US-24 BY FRIDAY MORNING. PRECIPITATION IS EXPECTED TO DIMINISH FROM WEST TO EAST BETWEEN 9 AM AND NOON FRIDAY. "
That just sounds horrible!
I wonder if when I wake up in the morning I'll have this in which to contend.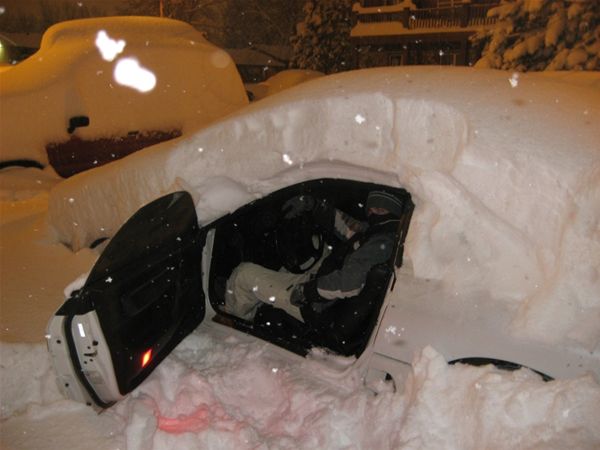 Personally I think we'll get about 4 inches. Probably not much more. The local weather people always seem to over predict.

Posted by Contagion in at December 18, 2008 09:16 PM | TrackBack