January 28, 2009
Saison Dupont
Tonightís beer is Saison Dupont brewed by Brasserie Dupont, Tourpes, Belgium. This is another beer that was donated by Petey of Peteyís Powderhorn. Itís a Belgian Farmhouse Ale. Unlike most American beers itís unfiltered and bottle conditioned.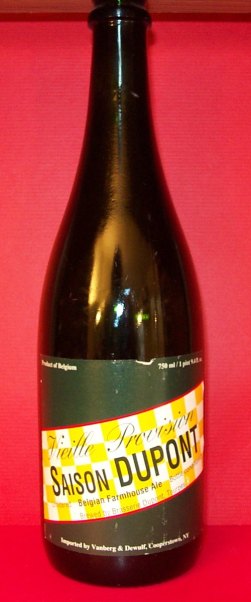 This is bottled in an 11.2 Fl. Oz. bottle. It has a black label with a yellow and off white checkerboard pattern that is on a tilt across the label. In black letters in the middle of the checkerboard pattern is the name of the beer. The label boasts a 6.5% alcohol by volume. . On the back label there is a bit of a story about the beer and what exactly a Belgium Farmhouse Ale is exactly. ďThis increasingly rare specialty originated before the age of refrigeration as a beer to be brewed in winter for summer drinking. The style required a beer sturdy enough to age in the bottle but refreshing enough to be enjoyed in warm weather. ďThereís a bit more to it, but youíll have to buy a bottle to read it!
There is a hazy pale straw color to it. Light passes through easily enough, but the cloudiness makes seeing through it near to impossible. When poured into a pint glass a dense off-white head forms about half an inch thick. It fades slowly and even at the end a nice ring is still around the edge of the glass, with a film over the top. A creamy lacing forms on the side of the glass.
When brought to the nose, the first thing you notice is a spicy mixture of clove and coriander. There is a sweet banana-like scent. A touch of yeast carries the rest of the scents and there is a slight white pepper accent to it that brings it all together. The flavor is spiciness with a mellow fruit and hop flavor. The fruit sweetness is balanced by hop bitterness that combines for a beer that isnít too sweet nor is it too bitter. The taste is rather refreshing with a mild aftertaste that lingers gently.
This is a light bodied beer. The carbonation provides a crisp bite. There is a creaminess to it that is pleasant on the tongue, but isnít thick or coating.
This is a pleasant beer to drink. Itís light, flavorful and easy to drink. The sediment is a little disconcerting. This is an enjoyable beer to drink, and I would enjoy drinking this more on a hot summer day than on a gold winters evening. I give this beer 6 out of 10.

Posted by Contagion in Alcohol at January 28, 2009 10:22 PM | TrackBack