November 04, 2009
Beastie Barrel Porter
Ktreva is tired of everyone else getting an Enabler glass and feels she should have one herself, especially since she was one of the first donators. This will be her ninth. I, being the arsehole that I am, will not give her one unless she earns it. She also wants to be the one to find my next favorite beer. This will be her ninth. Using insider information on what is my favorite she went out and found Beastie Barrel Porter by the Barley Island Brewing Company in Noblesville, IN.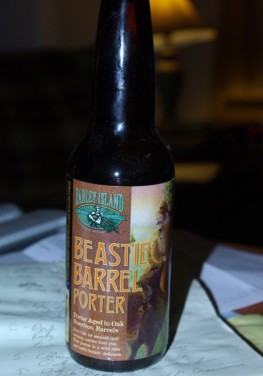 It came in a brown glass bottle with a brownish label. There is a picture of a mountain man riding a buffalo. The name of the beer is in light brown lettering on it. Under the name of the beer is the following, "Porter aged in Oak Bourbon Barrels. Don't let its smooth and creamy nature fool you. This porter is a wild ride and buffy-bucking delicious".
This beer has a dark, black coffee like color to it, with a hint of ruby coloring to it. It is so dark that light barely passes through it. When poured into the glass, a creamy tan head. The head fades slowly leaving a good thick lacing on the side of the glass.
The smell is an enticing combination of chocolate and caramel malts followed by the scent of the oak barrel. The scent sets up the flavor. The taste consists of chocolate malts backed by oak. Some caramel malts are noticeable as the beer washes over the tongue. A good hop finish on it rounds off the beer. There is a smooth aftertaste, just a hint of coffee malt that is pleasant.
This is a medium bodied beer with a nice creaminess to it that coats the mouth. The carbonation is mild and unobtrusive.
This is a very easy to drink beer. A nice flavor, low carbonation, creaminess; it has a complete mouthfeel that makes this a great beer to drink with friends. I could see myself sitting down and sharing a couple with some friends, especially during the winter months. I give this 7 out of 10.

Posted by Contagion in Alcohol at November 4, 2009 08:34 PM | TrackBack