July 08, 2006
Dating and Facial Hair
Okay, I've had quite a few questions regarding A) My Date last night and 2) My Facial Hair. Especially since the two are linked by the fact that Ktreva hates it. Well let me start by saying that if all my dates in High School and College had gone as well as last nights, I'd give Magic Johnson a run for the money.
As for the facial hair, it has been two months. Now, normally when I trim my facial hair I keep it short, about a quarter of an inch. Right now, it is about 1.5 inches long. The beard is longer then the mustache.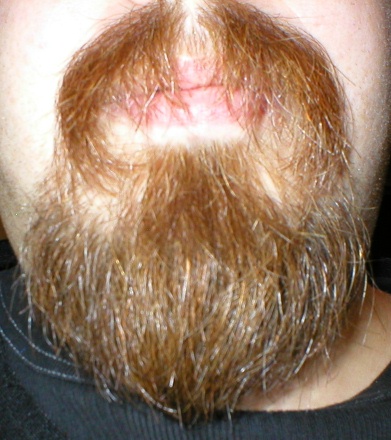 Drinking anything out of a glass is difficult. If you watch movies and you see guys with burly facial hair drinking, you will notice that a good portion of the drink runs down their facial hair. In the past I figured it was because they where just sloppy drinkers. Nope, that's not the case at all. The facial hair acts as a strainer and barrier. Unwanted chunks can't get past, however there is a certain amount of fluid that is lost down the front of you. I've tried different tactics, but nothing prevents this from happening.
Speaking of the straining aspect. I've discovered that I can buy a couple of really good beers and make them last all night, especially after I've switched to cheap beer. The flavor of the good beer gets saturated into the facial hair and as you strain the cheaper beer through it, it picks up the flavor.
Speaking of flavor! I've found that my new facial hair has saved me on purchasing items such as flavored chips. Last Saturday I had been snacking on Doritos early in the day. That evening as I was licking my lips I noticed that all the flavor dust had attached to my mustache. Much like pollen to a bee. I was able to enjoy the flavor of the Doritos with out eating anymore by sucking on my facial hair!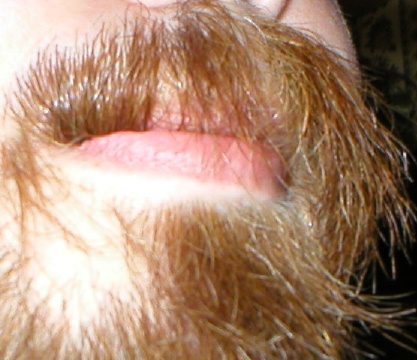 I thought you might want a demonstration so I re-enacted it for you… hey that's what I do, re-enact.
So as you can see the facial hair is coming in just fine. It's really taken on the natural red coloring that's hard to see when it's short. It's also the last facial hair on my body that does NOT have gray in it.
Posted by Contagion in General assholery at July 8, 2006 01:01 PM | TrackBack