July 30, 2006
I have returned!
We've returned from our whirlwind adventures through Illinois, Indiana, Kentucky, Tennessee and Missouri. The family had a great time. We were able to see a lot of interesting sites, learn new things and have a lot of fun. Over the next couple of days I'll share with you some photos and stories of all that we did.
We left bright and early Sunday morning for our first destination, Lafayette, Indiana. Our first stop was the Tippecanoe Battlefield. Unlike when Ktreva and I were here last February, the weather was nice enough for us to want to walk the battlefield. Well, it was nice enough for me to make the family walk the battlefield. We walked the entire field. Even parts of it where there were no markers. I didn't realize that when we started the walk, fortunately we avoided all the poison ivy.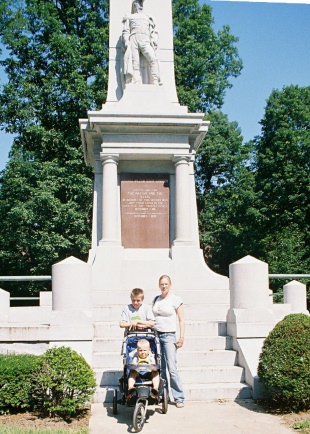 Ktreva, Boopie and Clone in front of the Tippecanoe memorial monument.
After the Battlefield we went to the Wolf Park. Unfortunately our favorite guide was out of town that day. We ended up settling on one of the other guides. Don't get me wrong, they were good, but it's always better if you have your favorite. Clone wanted to go play with the "big doggies." After some convincing that A) They were not doggies 2) The wolves probably did not want to play with him D) The people in the cage had training, he was okay with just looking at the "big doggies" play. We did learn why you don't have pizza delivered to the park. Apparently the wolves loves them some pizza.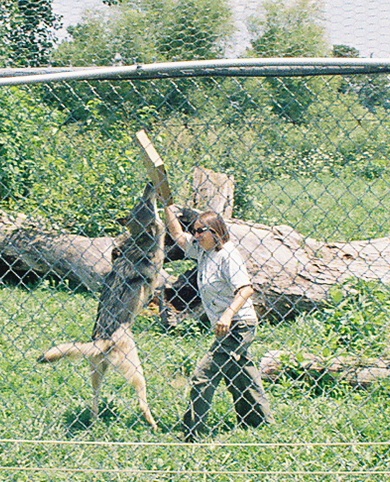 I never realized wolves, like humans, would get lazy and order pizza if they didn't feel like "cooking".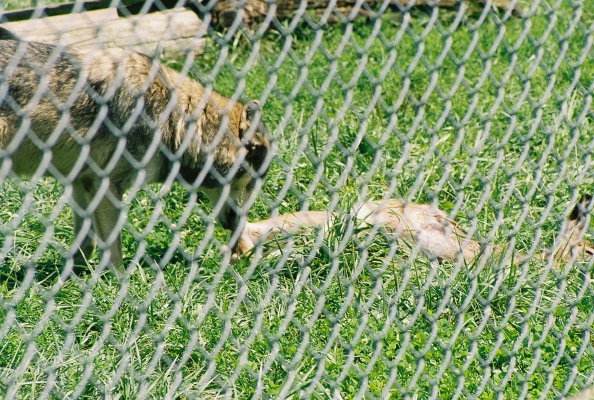 They tried to do a feeding demonstration, unfortunately after gorging on pizza, they where only interested in sniffing the deer. In fact one wolf sniffed the deer and looked at the handler like, "What, deer again?"
We also were able to see a wolf and bison demonstration. The park put three wolves in with a herd of bison to so the public could see how they interact. This is when we learned that other then pizza, wolves are the number one predator for Granny Smith apples. There were some times when the wolves would approach the bison, only to be driven off by one of the large adults. A whole pack of wolves versus a sick or young bison is a threat. One wolf versus a full-grown bull is just funny to watch. The boys learned about strength in numbers.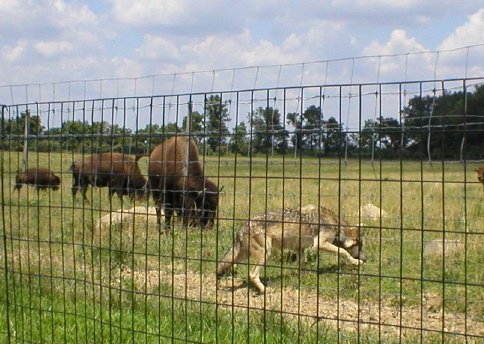 The Great Grey Apple Hunter
It was that night we learned of the sniper shootings on the Indiana interstates. In fact one of them was on the interstate we were traveling on. Great! That's what we need on our vacation. Traveling with a three year old who hates to ride can be tense enough, throw in the big electric signs along the interstate that read, "WARNING! Report any suspicious activity on overpasses to the police" and the radio warnings didn't help. Fortunately we come through Indiana with out any new ventilation holes in the van.
Monday morning we went to breakfast with Laughing Wolf, who had made it back to town. It was nice being able to visit with him again. It wasn't until we were back on the road that we realized that we forgot to get a picture of the family with him. We had meant to get one.
More photos and details of our trip will come later. For those of you that are interested in the supernatural, I have some very interesting photos from the Shiloh Battlefield. Right now it's just good to be back.
Posted by Contagion in Family Life at July 30, 2006 12:55 PM | TrackBack