August 08, 2006
I know I said I was going to quit posting about our vacation, but I forgot to tell you about a place we almost went to, but opted not to. While watching Clone when Ktreva and Boopie went horseback riding, I saw a sign that at first I thought I had misread. Upon a closer look I had not. The Golgotha Fun Park.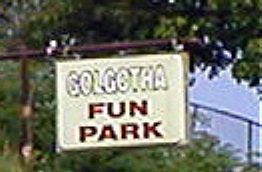 The place was closed, and by closed I mean permanently. It looked like it had not been open for many years. Maybe it was their advertising campaign:
Golgotha Fun Park: More fun then an execution.

Golgotha Fun Park: You don't need nails to be put up for the night.

Hang around a while, Jesus did. Golgotha Fun Park.

Even Barabbas came away grinning from Golgotha Fun Park!
It makes me wonder if the owners knew what Golgotha was, or if they just like the sound of it. Either way it looks like it was a bad idea.
Yea, I know, I'm going to hell.
Posted by Contagion in General assholery at August 8, 2006 05:06 PM | TrackBack