August 31, 2006
Boopie's big game.
Boopie had his first football game last night. He had aspirations of being a running back; at this time the coaches have him playing special teams. He's on the kicking teams, both kicking and returns. He's not a kicker; he's one of the blockers/defenders. He's a little disappointed, but he has a good attitude about it. He's happy he's getting to play on the varsity team.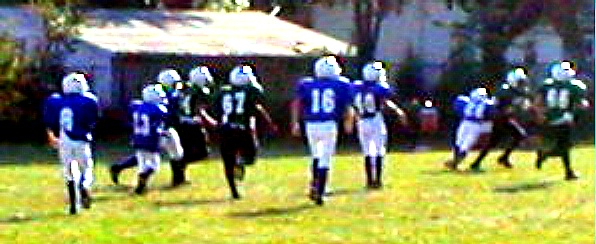 Here he is in the thick of a play. He's number 13, the short one kind of left of center in the blue.
He did a pretty good job, he was in the right place at the right times. He also tried to make a couple of big plays. Unfortunately, most of the other players are bigger then he is and he was more of speed bump then anything else. Which does help in slowing down the other team. There was one play where he was trying to get to the other teams returner. A kid that was about 50 pounds heavier and 8 inches taller laid a hit on him that sent Boopie flying back 3 yards. I was about 40 yards away from the play and I could hear the hit clear as a bell. I kid you not when I say Boopie bounced when he hit the ground. He hit and bounced up a good 5 inches.
The first thing that went through my head was, "I'm damn glad Ktreva was taking Clone to the bathroom and didn't see that hit." The second was, "I don't think he's going to get up after that." Folks, let me tell you something, the boy surprised me. He's a small guy, but he can take the hit. Being quick and agile, he was back up on his feet. The defender that hit him had left him for dead on the field. Boopie was able to get to the returner and slow him down enough so that one of his teammates could get in and make the tackle.
I was proud of him. He took his lumps, and shrugged it off with out thinking about it during the game. After the game is a different story, but I'll take that. He knew that during the game was not time to complain or show weakness. During tonight's practice, the assistant coach used him as an example of how to handle a hard hit during the game. His team ended up losing, which he took rather badly. We had a talk about good sportsmanship. Being a good sport isn't just about not bragging when you win, but accepting it when you lose. You learn from the loss and try to improve, not complain about it.
He may just be a football star yet.
Posted by Contagion in Football at August 31, 2006 07:06 PM | TrackBack