September 04, 2006
The neighborhood smells good.
Everyone might remember that last weekend I was in a grilling mood, so I made some slow cooked pork chops. Unfortunately that didn't cure my need to grill. All week I kept thinking of what choice of meat I could slow cook for hours. Finally I decided on a nice beef brisket. It's been cooking over a low smoky heat for 6 hours. It's about ready to be pulled off and eaten.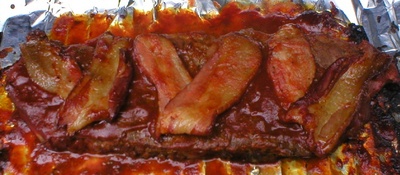 Click to Enlarge
I'm not meaning to gloat, but damn, it would be just down right inhumane of me to not share this!
If it makes you feel better, it's been raining with hail for the last 4 hours. Yes, I've been going out into that weather to make sure the meat cooked up right.
What? No, bad weather is not going to stop me from grilling.
Posted by Contagion in General assholery at September 4, 2006 02:30 PM | TrackBack