November 24, 2006
I went shopping on Black Friday?
Itís black Friday, and as Iíve stated in the past there is nothing that would make me want to go out shopping today. Well that was until yesterday. Between the Thanksgiving feedings the lady folks got together to look at adds for today. Ktreva found an add from Dickís Sporting goods that stated ammo was 50% off today only from 5:30 AM to 2:00 PM, maximum 6 boxes. This morning I woke up around 6:30 AM and headed into the madness that is Black Friday. I didnít think ammo was that big of a Christmas commodity, so I didnít wake up too early.
Dickís wasnít that busy when I arrived, and they did have their ammo on sale. I picked up 4 boxes of .357 and 2 boxes of .45 ACP. After I made my purchases, I called my friends J-man and Graumagus to advise them to get off their butts and head down there while the sale is still going on. Then I had a moment of genius. I have a friend that works at Gander Mountain and is working today. Maybe I could get Gander Mountain to honor the competitorís sale, thus getting another 6 boxes of ammo at 50% off.
Gander Mountain was also not busy upon arrival. I was able to find my friend and I asked if they would honor their competitorís sale. He advised me that normally they donít, especially on Black Friday, just because of the nature of the sales. Then he added that since I had the ad with me AND because Iíve purchased a lot from them over the last year they would match the deal. Unfortunately their ammo selection had been picked over. They had the same Remington .357, but they didnít have the .45 ACP. But they did have it in the Blazer Brass. I decided I needed another 100 rounds of .45, and picked up the Blazer Brass.
Then my friend looked at the coupon, much closer then I did. The actual sale is buy one, get one at 50% off. Dickís (Whom the ad is for) gave me all the ammo at 50% off. Heck, the guy working the counter even told me that all the ammo was 50% off. I may not have gotten as good of a deal from Gander Mountain, but it was still good enough. Between the two sporting good stores, I ended up with 600 rounds of Ammo for just over $110.00.
One canít argue with that. I normally spend that amount buying half of what I bought.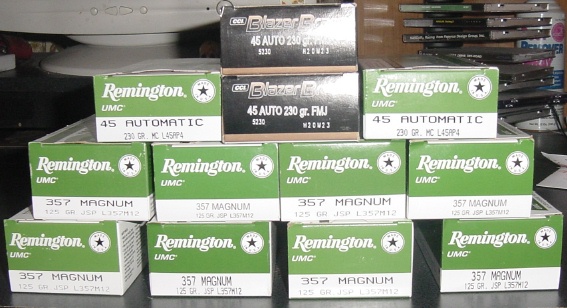 Isnít that a pretty sight?

Posted by Contagion in Stories about me. at November 24, 2006 06:46 PM | TrackBack