February 04, 2007
Time to watch the Super Bowl!
The Super Bowl is Here!
The big question is, who will win? Being in northern Illinois, the Bear fans in abundance, including the bandwagon boys, are all declaring that the Bears have already won. I want the Bears to win; Iím rooting for the Bears to win. I just donít know if they will.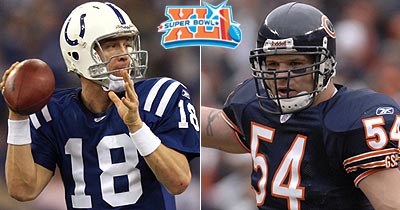 So my question to all of you is, who will win? Can the Bears great defense stop the Colts great offense? Iím curious as to what everyoneís predictions are. Iím thinking 27-24 Bears.
Whatís your prediction?

Posted by Contagion in Football at February 4, 2007 09:56 AM | TrackBack