September 21, 2007
Big weekend.
This weekend I'm actually taking Ktreva out of town on a romantic weekend for two. Saturday I'm going to take her shopping and on Sunday I have tickets to a very hard to get show. I know people that have been waiting years to get their hands on these tickets.
To learn more, see the extended entry.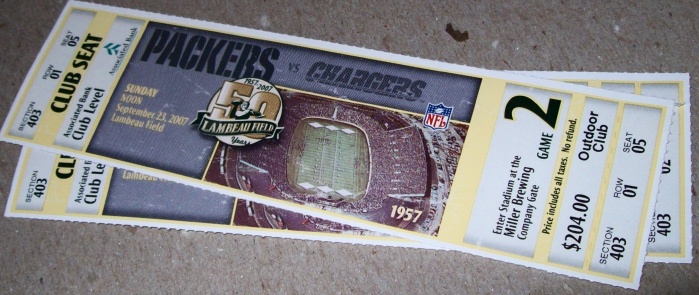 That's right I'm taking Ktreva to Green Bay for a football filled weekend! We are leaving Saturday and not coming back until Monday. This is some much needed alone time. We hardly get to do anything just the two of us. This weekend is shaping up to be beautiful too. 76 degrees in Green Bay as a high with clear skies. Sure it's not perfect football weather, but I'll take it over rain any day.
So while all of you are at home watching the Games on TV, remember I'll be hoisting a bottle of water (blech!) to your health up in Lambeau Field.
Posted by Contagion in Football at September 21, 2007 02:23 PM | TrackBack