September 24, 2007
Green Bay fun.
What a great weekend! Ktreva and I left Rockford around 10:00AM Saturday Morning. We were to our hotel and out shopping in Green Bay by 2:00 PM. We found some new items for each of us. Ktreva was extremely happy as that she got a new ladies cut Jersey that JUST came out. It's all sparkly and glittery in off colors and everyone was asking her were she got on game day. She loved the extra attention. It also got her some extra attention for the legendary Packalope. This man is in the NFL Hall of Fame as a fan, and has been on countless television specials, documentaries and sporting magazines as an "Ultimate Fan".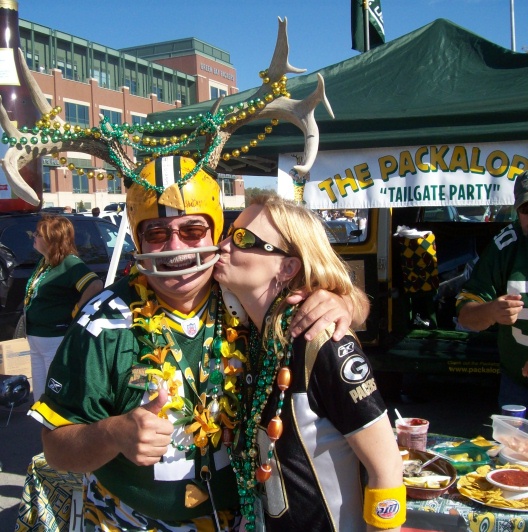 Giving the Packalope some love.

Of course Ktreva wasn't the only one that got their picture taken. We were doing some pre-tailgating tailgating. Yes, I that is correct. As we were walking around what did I see, a giant walking inflatable bottle of Miller Lite with two of the Miller Girls in tow. They were handing out stuff and about for photo opportunities. Me being the dirty old man that I am couldn't pass up a chance to have my picture taken with the Giant inflatable bottle and the two slightly less attractive than my wife Miller Girls. Unfortunately the bottle did not find it amusing when I tried to pop his top for a frosty one. Later on they had the Miller Lite Ref girls walking around as part of the Beer League policing. Ktreva wouldn't let me get my picture with them though, something about me being a perv.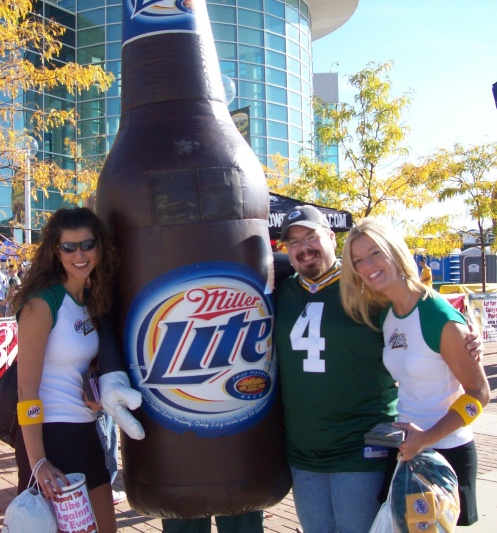 Trust me that smile is real.

We had club seats for the game, which were really nice. Cup holders, waitresses, private bathrooms, a special lounge, and VIP access. Well worth the price of admission. We sat around some of the best and nicest people we've met at a game. We made friends with the people around us and had a great time. There were some Charger fans sitting in the "commoner" section right below us that were really obnoxious. Of course once the game started going against them, they shut up. They also left with more than 2 minutes left on the clock. We met some really nice Charger fans, so I'm not saying all of them are obnoxious, but this group of 20 definitely was. To make matters worse, I think they were related to one of the players.
One of the guys were sitting with took a picture of Ktreva and I together. Between her Jersey and my necklace we were a hit. Oh, I forgot to tell you about the necklace! You have all seen the Packer Cheese wedges; well this year they have the "Wisconsin Lei". It's a lei made out of foam cheese and bratwursts. I saw it and had to buy one!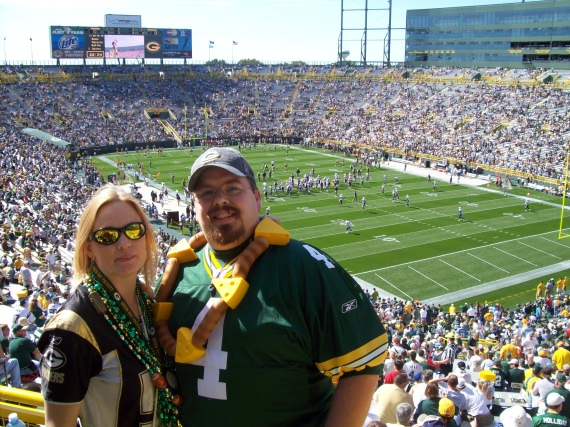 She couldn't keep her hands off of my meat.

Every year Green Bay has a specialty hat they sell for various charities and causes. A couple of years ago it was a pink hat for breast cancer, last year was a red hat for heart disease, this year it was a charcoal gray hat for the Military. They even had a wall were fans can sign a thank you to the troops. Of course I bought the hat and signed the wall, $5.00 of the hat goes toward charities that focus on veteran health, counseling and family support.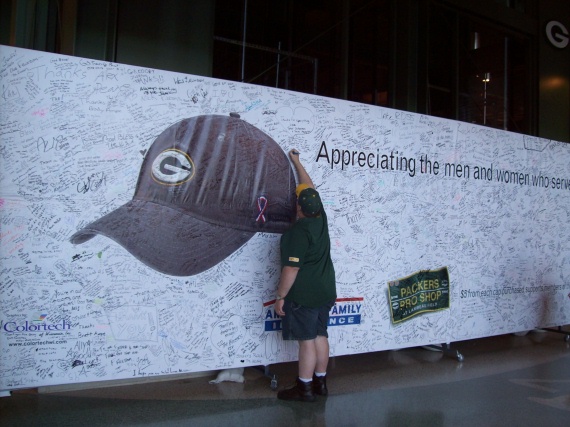 Me signing the wall after buying the hat on Saturday.

We had a great weekend. A lot of football (Packers beat the Chargers 31 to 24), we even had time to catch a couple of movies we wanted to see, ate at some great restaurants and just had some one on one time that we really needed to have.

Posted by Contagion in Football at September 24, 2007 03:02 PM | TrackBack