October 05, 2007
Beer surplus?
Today at lunch I headed to a local grocery store to pick up some munchies for the weekend. While I was there I decided to take a walk through their liquor department to see if they had any new beers to review. As I went down the aisles, Ktreva pointed out that the Great Lakes Brewery beers were on clearance for $2.99 a Six-Pack. Folks, the price on this beer is normally $7.99 per sixer. Now Great Lakes makes the Edmund Fitzgerald Porter that I reviewed back in June, and received a damn good rating. Of course I picked up a six pack of two of their other beers, the Elliot Ness and Dortmunder Gold to review at a later time.
As I stood there I did the math in my head. $2.99 a six pack. That comes out to $11.96 for a case. That's a damn good price. And even though I'm not supposed to drink beer, I do entertain. Ktreva suggested I buy as much as I can at that price. So I did, I ended up buying a total of 10 six packs for $29.90. And as my wife put it, "That's premium beer for Keystone Light prices."
This morning I was thinking there was a large surplus of beer in this house that wasn't getting drunk. Those weekly beer reviews I generally only drink one and give away the rest. But I haven't had a gathering or re-enactment in a while so I have a lot of sixers sitting around waiting to be drunk. After today, I have a ton more.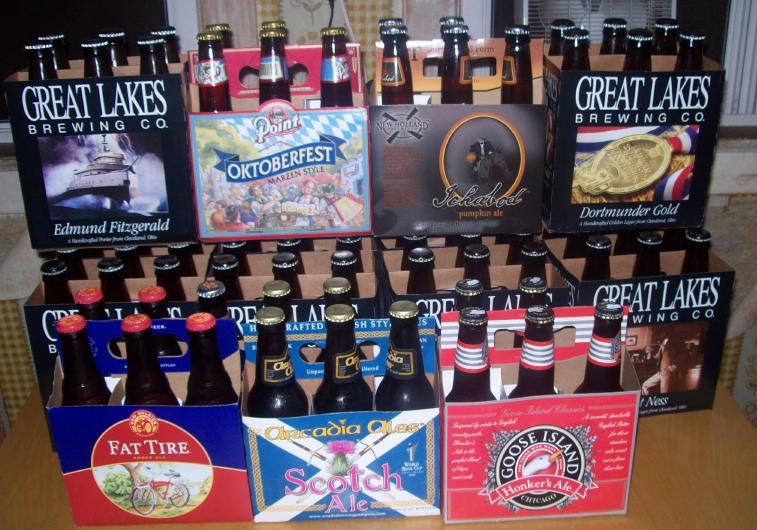 Yes some of those six packs only have 5 beers in them, but that's 86 beers (15 six packs X 6 beers - 4 missing). That's over three and a half cases of beer. And that isn't counting the growlers I have in the fridge.... and I don't drink beer... as much... anymore.
So which one of you drunks is going to be knocking on my door tomorrow?
Posted by Contagion in Shenanigans at October 5, 2007 07:08 PM | TrackBack