January 16, 2008
Caffrey's
T1G of Drunken Wisdom brings this weekís review to you; he gave me this beer to review while he was home over the holidays. Let no one say he is anything but a generous man, and with a blog name Drunken Wisdom, you have to figure he knows a thing or two about beer. Tonight Iím reviewing Caffreyís by the Thomas Caffrey Brewing Company.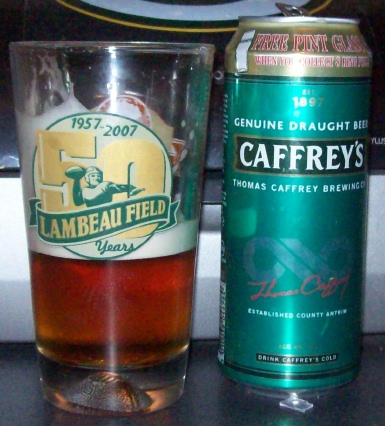 Like a lot of beers from the UK, this came in a 16 oz nitro can. Itís mainly green with a gold ring at the top. There is a modern stylish Celtic knotwork symbol on the can with the signature of Thomas Caffrey in red under it. The name of the beer is on a black banner on the top third of the can. It was the color scheme that inspired me to drink it out of a Lambeau Field glass from Curlyís pub. Donít ask how I got the glass.
As is typical of nitro can beers, this one has a nice thick creamy white head. When itís poured into the glass the nitrogen bubbles put on a cascading effect that is rather impressive. The head leaves a thick creamy lacing on the glass that lasts as long as the head does. It is considered an Irish Red and has about the typical reddish-copper coloring to it. To be honest I was expecting a slightly more reddish hue to it, but it looks just like a proper beer should.
The smell is a very meek combination of sweet malts and floral hops. There is a slight fruity hint, but I am unable to make out what kind of fruit. It has a mild taste, mostly of malts. One really canít detect the hop taste at all. With almost no aftertaste, itís easy to see why someone would drink quite a few of these.
It is a full-bodied beer with a silky and smooth feel to it. It is much thicker than the looks lead you to believe.
I know T1G really likes this beer as was talking about it a lot while he was home. Itís not a bad beer, I could see ordering a couple dozen in a pub, especially if I was eating a meal. However, I really wasnít all that impressed. The weak taste left me wanting more of something else that had more flavor to it. It really could use some more hops to balance it out. Overall itís not a bad beer, but nothing I would go out of my way for. Iím giving it a 4 out of 10.

Posted by Contagion in Alcohol at January 16, 2008 07:48 PM | TrackBack