February 02, 2008
Bad Jersey Blog
With the Super Bowl coming up, I wanted to help some of the fans out there that aren't as die hard about the rules of etiquette about attire. The biggest is the jersey rules.
First: Always wear a Jersey of either your favored team or if your favored team isn't playing it is acceptable to wear a jersey for the team you are rooting. IE if you are a Dallas fan, it would be unacceptable for you to wear a Bucs jersey during the big game since it's the Pats versus the Giants.
Second: Never, ever, ever, EVER wear a jersey of a player that is no longer on your team. There are three exceptions to this rule. 1) If they retired from your team. Think John Elway with the Broncos. 2) If your team retired that players number. Such as Reggie White and the Packers/Eagles. Reggie left the Eagles, Played 8 years with the Packers, retired and came back to play one year for Carolina. But since the Packers and the Eagles retired his number, it's okay to wear a Packers or Eagles Reggie White jersey. 3) The player was voted into the Hall of Fame as a player for your team. Joe Montana is a prime example of this. His last two years he played for Kansas City, but he was inducted into the NFL Hall of Fame under San Francisco. San Fran fans can wear a Montana Jersey. Any other situation is unacceptable.
Third: Don't wear a jersey of a player that never really had any impact on your team or was a disgrace to the position they played.
That about sums it up. But if you need some visual aids, go check out Straight Cash Homey Dot Net, or as I found it, "The Bad Jersey Blog" These guys will give you a lot of examples with some funny captions as to why these are jersey faux passes.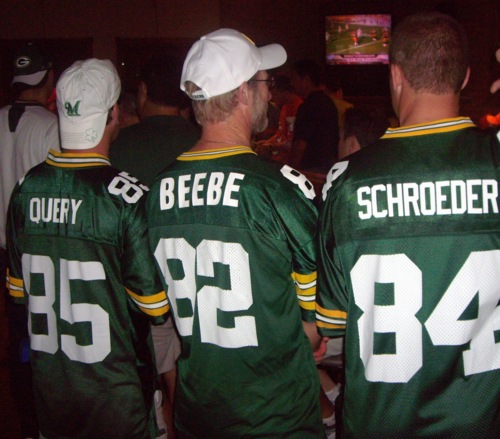 Yea, a trifecta of Packer Jersy no-nos. Don Beebe who only played two years for the Pack, 96 and 97 Sure they were Super Bowl years, but really didn't do that much for the team. Bill Schroeder who played his last year with the Pack in 2001 and Jeff Querry who's last season with the packers was in 91. Other than Schroeder have a couple of decent seasons, none of them were all that great.
Posted by Contagion in Football at February 2, 2008 01:48 PM | TrackBack