March 01, 2008
For the cooks out there.
I like to cook, but I don't host that many parties were it isn't much more than a buffet style kegger. It's not that I wouldn't like to have the other kind, it's just we don't have room for something like that. However, if I ever did host one, or for those of you that are planning an upcoming party, I'd try to make these: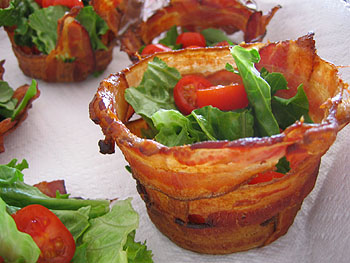 Bacon Cup
Over at not martha they have the complete instructions on how to make these yummy little salad holders.
Posted by Contagion in Things I find interesting at March 1, 2008 08:46 AM | TrackBack