March 04, 2008
Thanks for the memories Brett Favre.
After a meeting this morning, the news I had been expecting, yet dreading was delivered to me. When I returned to my desk I had no less than 50 instant messages, e-mails or people walk up and tell me that Brett Favre announced his retirement.
I handled it well all day and kept myself composed, but I'm actually saddened by this news. I started really watching football in the early 80's. I remember watching Lynn Dickey, Randy Wright and Don "Magic" Majkowski lead my team on the field of glory. I also remember watching a game on September 20, 1992 when Majkowski hurt his ankle and was replaced by Favre where he lead the team to his first of many comeback victories. Over the last 16 seasons, almost half of my life, Favre lead my team to 15 winning seasons, 2 tie seasons (8-8 record), and one losing season(2005). When we won the Super Bowl in 97, Favre was easily recognized as Green Bay's favorite son.

Favre in the Super Bowl
It's not because of this that it saddens me, it's that over the last 16 seasons he's been there on the field for us. I've watched him, cheered for him and have seen him overcome many obstacles. He overcame injury, addiction to vicodin, injuries, the death of his father, his wife Deanna's breast cancer and Katrina damaging his home town. Brett was a classy man that is a role model to kids and adults. He has been a big part of my football life and I'm going to miss watching him play.
I was just happy I was able to be at his last winning game in the NFL. The most memorable game I've ever seen in my life. It was a great time and a good victory. I'm really glad I was there for it.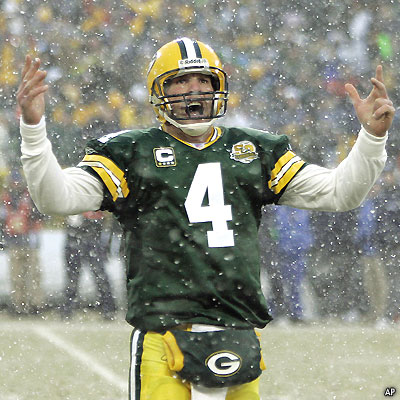 Thanks Brett. Thanks for everything you did for me, my team and the NFL in general. You deserve your retirement. You are one of the greatest.
However, if you come out of retirement like some people think you might, you're more than welcome back!

Posted by Contagion in Football at March 4, 2008 06:06 PM | TrackBack