September 13, 2008
Soda Vs. Pop
This arguement has been going around the blogosphere for a long, long time. I remember seeing many a post about it. What do you call soft drinks? Is it soda, pop, coke, etc. This arguement has even gone on outside the blogosphere. I know many of my friends and I have had this debate.
Someone has taken this debate to a new level and actually did a survey to find out. Then they made a map based on the answers. Finally we have the Soda Vs. Pop map.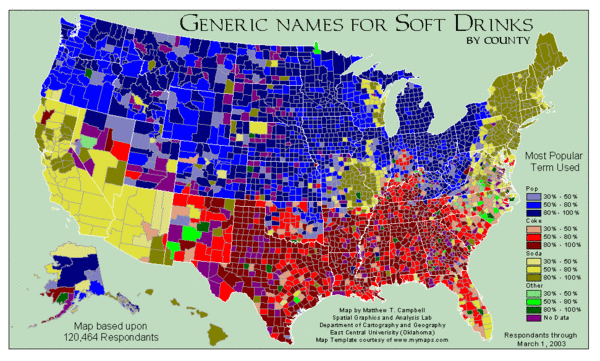 Click to enlarge.

They also have a breakdown on to how the map can be read over at Strange Maps. Looking at this map I have to conclude pop is the most used term!
Posted by Contagion in Things I find interesting at September 13, 2008 09:48 AM | TrackBack