December 20, 2008
'Tis the season for Bacon!
Anyone that knows me, knows I love bacon. It may not be a completely healthy obsession (both physically and psychologically), but it is one. So this week when searching the internet I found the best bacon combination for the holidays
First, for those of us that want to just decorate the house with Bacon. You have Bacon Christmas tree ornaments!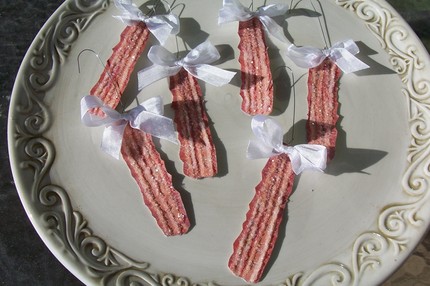 Then on Christmas day you can have a a Turbaconducken. I've never had a Turducken before, but when I finally have one, it's going to be wrapped in bacon. MMMMmmmmmm Bacon.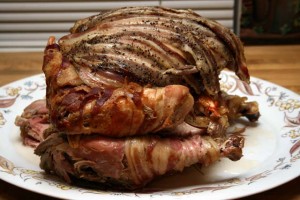 Doesn't that look delicious!
Then finally, as a side dish you can have, what appears to be, the best bacon food stuff I've ever seen. It combines bacon with another guilty pleasure of mine... Cheese! We have the Bacon and Cheese Roll.

Oh c'mon you know that looks sinfully delicious.
If I have a heart attack before the New Year... you'll know why.

Posted by Contagion in Things I find interesting at December 20, 2008 10:40 AM | TrackBack