June 10, 2006
Smokin'!
I know it's not officially summer yet, but as far as I'm concerned, it's here. Summer means grilling and EVERYONE should have at least one grill. One charcoal for flavor, and one Propane for efficiency. Or if you are lucky like I am, a hybrid grill that is both Gas and Charcoal. Charbroil made these hybrids a couple of years ago; as soon as it hit the market I jumped on one. I love the thing. I've read reviews from others that say they didn't like them. To me it's perfect I get the best of both the charcoal and the gas.
But I'm getting off point. Everyone should own a grill, and with father's day around the corner you might want to look into either getting dear ol' dad a grill or maybe replacing his old one. Either way, here are some grills you might want to look into.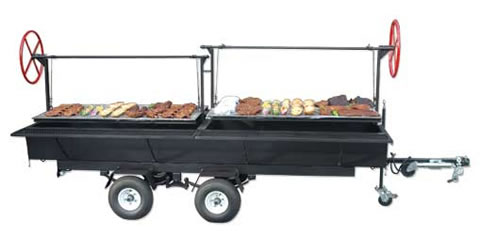 I wonder how much trouble I'd be in if I came home towing this baby.
Posted by Contagion in Things I find interesting at June 10, 2006 07:40 AM | TrackBack