August 03, 2006
Food, signs and an arch complex
Last Friday we had the longest day of driving in our trip. In fact that is mainly what we did. We drove from Savannah Tennessee to Springfield, Illinois via St. Louis Missouri. This was about a seven hour, 20 minute drive according to mapquest. Which is a long time for a 3 year old that isn't too found of riding in a car. Fortunately we had stops along the way planned to help break up the drive.
Our first stop was in Sikeston, Missouri. About two months before leaving for vacation Ktreva was watching the Travel Channel. She was saw the show "World's Best Places to Pig Out". We had been saying earlier in the show it would be neat to actually stop by one of these places and check it out. When they reached the number one place, it was Lamberts Café in Sikeston just off of I-55. I had just been planning the route and making reservations and knew we were going to be traveling on I-55. Checking out the maps I confirmed that the restaurant is going to be on our route! We planned on stopping in for a meal there.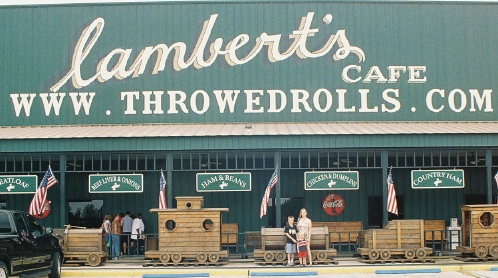 We walked in right as they opened and were seated right away. They had people walking around giving everyone fried okra, black eyed peas, fried potatoes, Macaroni with tomatoes, throwing rolls to hungry diners and someone walking around with sorghum for the rolls. That was even before we ordered our food; the "pass arounds" are free to anyone that orders from the menu. When our actual meal arrived we knew we were in trouble. The portions were huge. Mix that with the all you can eat pass arounds, I can see why this was the number one place to pig out. Oh, and by the way the food was amazing. It tasted excellent and the price was not bad at all. Writing about it makes me hungry.
After leaving Sikeston our next stop was St. Louis. The rest of the family had never seen the Gateway Arch, so we had decided to stop and see it. While driving into the heart of St. Louis, we start seeing billboards that have a picture of a baby and says, "Who's my Daddy? DNA Testing. 1-800-MY Daddy". Is this really that big of a problem in St. Louis? I mean there were numerous billboards; this has to be a thriving industry down there. On our trip we drove through Chicago, Indianapolis, Louisville and Nashville. None of them had a place advertising this service. To me this means that if you want to go some place and have anonymous unprotected sex, St. Louis is the place to be.
We had no problem getting to the Arch, we turned off the highway too soon, but it was easy to follow the city streets to the arch.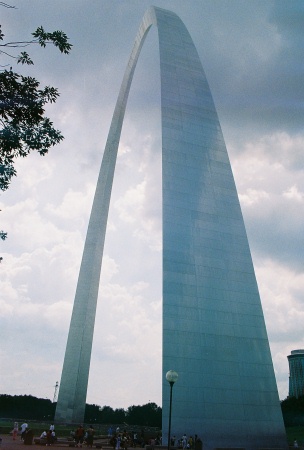 We parked, bought our tickets for the tram ride to the top and went to go see the museum. There was a line as they where inspecting people for hazardous and dangerous objects entering the Arch complex. I guess someone might want to blow up the Arch or take it hostage… but I can't imagine why. It was then I realized that I forgot to take my handy-dandy pocketknife and leave it in the van. The arch is part of the national park service and they frown on any type of knives in their parks/memorials. They had signs up saying it was a federal offence to bring knives into the complex. I had to hike back to the van and drop off the knife.
Upon returning I found the family just ready for some fun!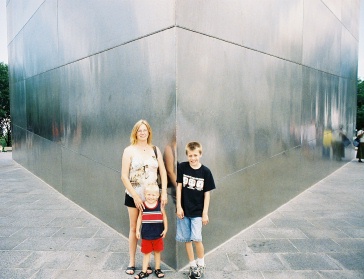 Boopie and Clone where fascinated with the tram ride. Once we were all the way to the top, the boys quickly forgot the tram and were fascinated with the view outside the arch.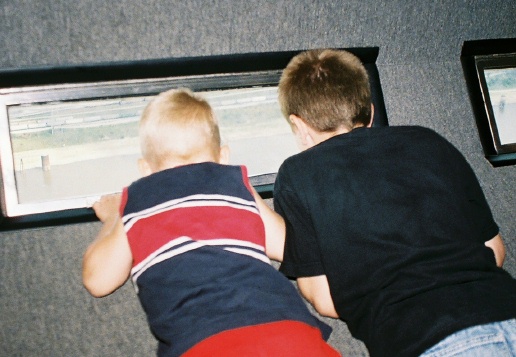 Clone got excited at seeing a riverboat on the Mississippi. He demanded that a picture be taken of it.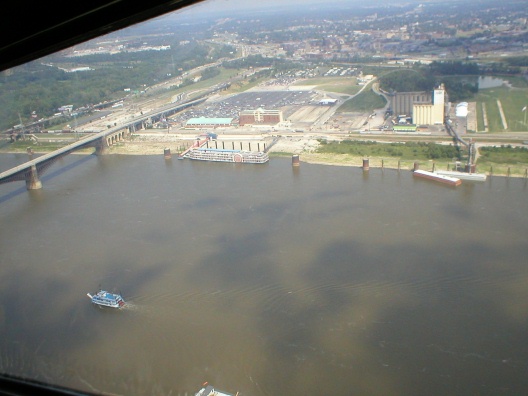 The Mighty Mississippi, a riverboat and the State of Illinois.
We walked around the Museum of Westward Expansion looking at what they had there. Okay people, by now most of you probably realize that I am a museum junky. I love the dang things. This museum had some interesting artifacts, the Indian Peace Medal Exhibit. It's the only museum I've been in that has had such a wide collection of them. Other then that, this museum was not that good. Fortunately it was free. Too many of the items on display where not labeled, they really didn't explain the history very well, oh and if you criticize the museum while you are standing in it, and uppity ranger will come over and give you a lecture… I kid you not.
They had a steering wheel from a riverboat but it wasn't labeled as to what boat it came from or what it was. If you've never seen one of these, they are huge. Not everyone would instantly recognize it for what it was. I was talking to Boopie about, "This place is really missing an opportunity to teach and educate the public about their history. There are no placards telling what any of the items are, like what ship did this wheel come from." At that point a ranger interrupts me and says, "It came from that." Pointing to a picture of a riverboat on the wall, The River Queen. Okay, I thought maybe he was going to answer some questions so I ask, "Did it sink, run aground or just discontinue being used?" He responded with, "It didn't come from that ship, but that style of ship…" He then went on to explain exactly what it was and how it was used, which I already knew. The whole time he seemed annoyed.
After leaving the arch we tried to make our way back to the highway. I say try because it was 5:00PM on a Friday in St. Louis. To quote the Malibu Rum "If Jamaican's took life as seriously as the rest of the world" campaign, "It's total gridlock mon!" It took us an hour to go 5 blocks. Mainly because at all the intersections people where pulling out and blocking traffic so that when the lights would change, no one could go. It was insane.
Tomorrow we will go over the last day of our trip.
Posted by Contagion in Family Life at August 3, 2006 06:15 PM | TrackBack