March 27, 2007
bubbles and swords.
Itís been a long, long time since Iíve posted anything really about the boys, with pictures. You may recall that last weekend was Cloneís fourth birthday. We had a lot of fun and he scored himself some pretty cool toys. Which is both good and bad.
Ktreva and I found these foam swords that were made so that kids can actually hit each other with them and not get hurt. Hell, Clone and Boopie whack away at each other with hard plastic lightsabers. I was tired of listening to them scream and felt these would be perfect. Soft foam swords, shields and daggers for the boys to play with. We ended up buying two complete sets for Clone, that way the person heís going after can actually defend themselves.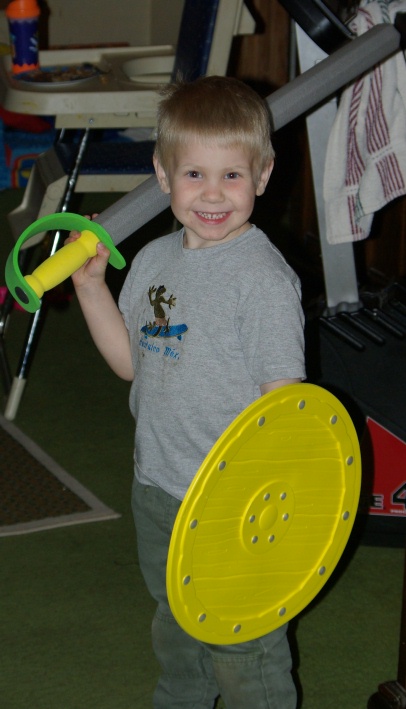 BTW, soft foam swords still hurt when they hit Mr. Happy and the Good Time Boys.
Clone also scored two bubble guns. One is completely automatic that works like a squirt gun, you load it with bubble and it will continue to shoot until you need to add more bubble juice (?) to the tank. My parents gave him that one. Ktreva and I, based on a recommendation from another parent, bought him a battery powered one that you have to dip into a tray. That one puts forth a cloud of bubbles that will completely cover an entire room.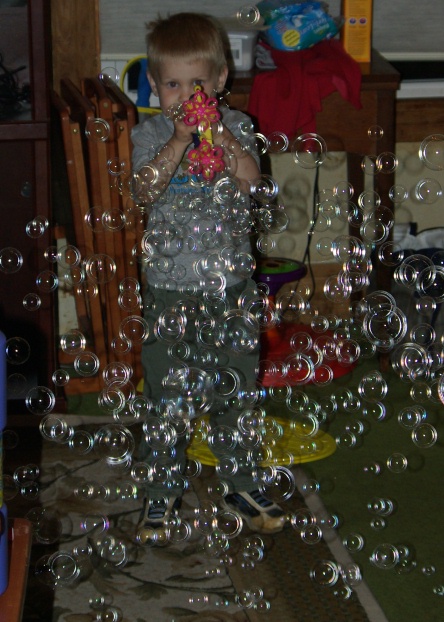 Yea, bubbles of doom!
He got some other toys, such as a Playmobile and a Fischer Price castle, a basketball hoop, and a new game for his V-Smile. But itís mainly the swords and bubble gun from hell that he plays with the most.

Posted by Contagion in Family Life at March 27, 2007 07:17 PM | TrackBack