July 18, 2007
Yuengling Traditional Lager
My buddy Will brings tonight's beer review to you. He gifted me tonight's beer last weekend at Theatiki. He kept trying to get me to drink one out there, but I wanted to wait until I was home and able to do the review in order to drink it. I didn't want to make my review biased. Tonight I review Yuengling Traditional Lager by G.G Yuengling & Son Inc in Pottsville, PA.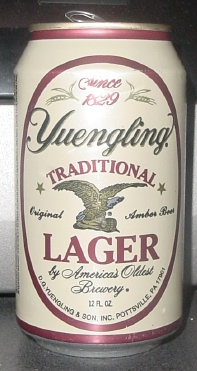 Tonight's beer came in an off white 12 oz can. On the front with an old fashion style looks is the logo inside an oval. There is an Eagle in the center. There is a story on the side of the can, "D.G. Yuengling & Son is officially recognized as America's oldest brewery. With over 178 years of brewing tradition and fiver generations of Yuengling Family ownership, D.G. Yuengling & Son holds the American Brewing industry record for the longest, continuously operated brewery…" There's more, but I'm not typing it.
It has a dark amber color with a hint of red to it. There doesn't appear to be a hint of cloudiness to it and light passes through easily. . It pours a three quarter inch head that fades quickly to nothing. There is no lacing or even ring around the edge of the glass.
The scent is that of floral hops and caramel malts. If you smell it long enough, you can get a hint of corn. You can taste a mixture of caramel malts with a touch of hops. There is almost a pear-like flavor to the aftertaste that fades quickly. There is almost no bitterness to the beer.
It is a light bodied beer. There is a lot of carbonation to it that is almost distracting. It's very smooth and easy to drink.
I have heard a lot about this beer, but never had one until tonight. The anticipation of drinking it was probably better then the act itself. To be honest to every one that has said so many good things about this beer, I think you built my anticipation up only to be let down. I really didn't think it was that impressive. It's like your standard American lager. There really isn't anything all that special about it. I think this is just another beer that gets hyped due to a reputation, a reputation for being the oldest beer in America. It is easy to drink, this is one of those get drunk quick types of beers. I had the first one down in three "sips".
Overall, I did enjoy the beer, I was expecting more, but it just didn't deliver. Overall this is not a bad beer; in fact it's a good beer. Why anyone would call this their favorite, I don't know. I give it 5 out of 10.

Posted by Contagion in Alcohol at July 18, 2007 06:19 PM | TrackBack