November 22, 2007
Happy Thanksgiving
It's Thanksgiving again. As many of my readers may recall the last two Thanksgivings have not been good for me. This year is shaping up to be a bit better. My in-laws were not able to make it this year, so that means I don't have a 4 day "Why Contagion sucks" fest. However, we are still going to my mother's were I've learned I have at least one aunt and cousin coming with as well. I would have backed out entirely except originally my in-laws were coming to town and I'm not cooking for that many people.
Yesterday we went to Clone's preschool for a Thanksgiving program/feast. It was a potluck style lunch with all the traditional Thanksgiving foods. After the meal the kids got up and did a little program for the parents. I learned a lot about my son's school that day. First it is ethnically challenged. There were no minorities at the school at all. Then this was the most un-politically correct Thanksgiving program I have ever seen. The kids dressed as pilgrims got to act with dignity, while the ones as Indians, "With their heathen ways", did the "indian dance", made the woo-woo-woo-woo sound and some came out with drums making the universal Indian drum sound, BUM-bum-bum-bum. And before you ask, hell yes I was laughing. Offended? no, not me and apparently none of the other parents either. It was really cute.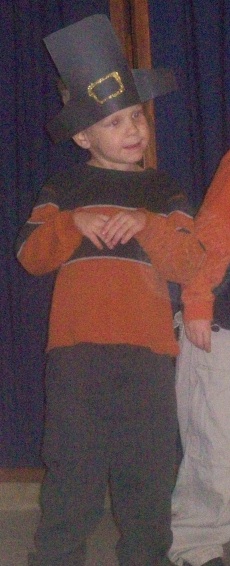 They also sang Thanksgiving themed songs like, "I don't want to be a Turkey on Thanksgiving" and "Turkey on a rail". These were hilarious, not just the way the kids acted, but the lyrics as well. The above picture is of Clone flapping his arms like wings trying to get away from being eaten.
I'm going to leave you all now to have a wonderful and fun Thanksgiving. Don't eat too much and hopefully you all have a good day! Oh, and before you I forget I left you all something in the extended entry to help brighten your day.
For the Ladies, a Pilgrim choking his chicken.


(Sorry, it was hard to find a sexy male costume!)
For the Guys, an Indian maiden ready to give it all for Thanksgiving.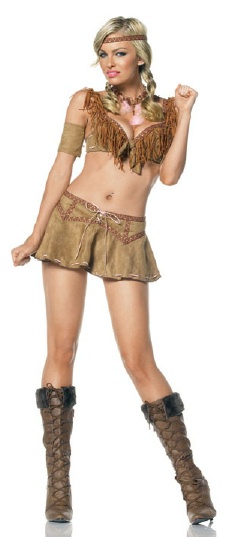 (Sexy Thanksgiving girl pictures aren't hard to find)
Posted by Contagion in General at November 22, 2007 08:42 AM | TrackBack