March 05, 2008
Bud Light Chelada.
I was called out recently over my beer reviews. As many of you that have been around since the origin of the review, I started doing this to review beers so that you were forewarned. After a while I started reviewing more and more microbrews and I started finding some really good ones. Back in December a new beer was brought to my attention, and I quickly told everyone, ďI will never drink it.Ē T1G and Bruce have both heard me say this. I even came close to violating my rule that I would drink any beer bought for me. Fortunately the arsehole gentlemen that was going to purchase it for me changed his mind. Finally a couple of ďfriendsĒ told me I ďhadĒ to review this beer, they had been waiting for it. So here I am tonight reviewing the only beer Iíve ever, EVER condemned before tasting. Tonight Iím reviewing Bud Light Chelada, AKA Bud Light & Clamato juice (Clam and Tomato juice) by Anheuser-Busch. May the beer gods have mercy on my soul.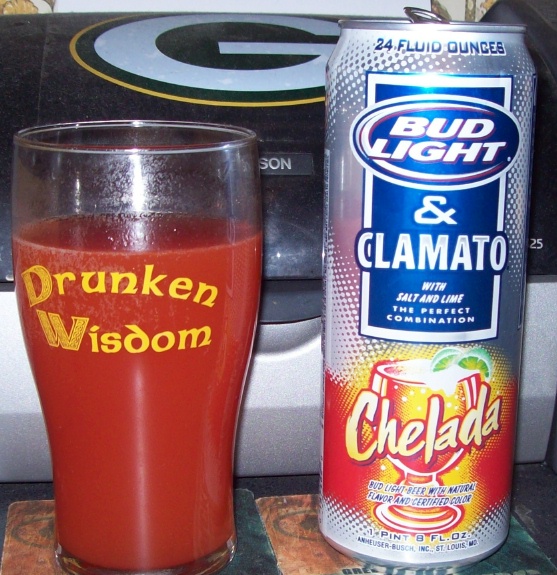 Sorry T1G, It was the first beer glass I grabbed.

IT came in 1 pint 8 fluid oz (22 ounce) silver can. It proudly advertises that it is Bud Light and Clamato (with salt and lime the perfect combination) Below that it shows a beer goblet with limes in the rim and Chelada across the front of it. On the side it has a box that has both Spanish and English writing in it. The English says, ďEnjoy the best of two worlds: a refreshing Bud Light and the unique flavor of Clamato. Drink a Red One, ready to go, or use your favorite ingredients to make it yours Ė wherever, whenever!Ē Ed note: Never
The color is like that of a dark pink grapefruit juice. There is a distinct red color to it. Itís thick; light passes through, but barely. It just looks thick. When Ktreva walked into the room she said it looked like chum. There is no head at all and no lacing on the glass. There is a film, but it isnít pleasant looking. Itís like floating bits of stuff have stuck to it.
The smell is mainly tomatoes, salt and only what can be described as wharf. You know, that scent you smell along piers that are in large bodies of water. There is a hint of lime and I think you might smell stale beer. Iím not sure if it was there or just my nose wishing it was. Unless you really like the scent of fish and bloody marys, donít smell this. The taste is going to haunt me for the rest of my life. In 20 years from now Iím going to wake up screaming while I have a nightmare remembering this review. First off, this does NOT taste like beer. Tomatoes, salt, clams with a slight stale beer backwash is what it tastes like. BTW, there are floaty bits in there. Not many, but there are someÖ and yes they are chewy. Fortunately they are few, far between and small.
Iíd love to tell you what the mouthfeel is like on this beer, but honestly I didnít want it in my mouth long enough to find out. I will tell you that for the brief milliseconds I had it in my mouth it reminded me of drinking tomato sauce and vomit.
Bud Light Chelada is proof that the gods of beer have a dark and mean sense of humor. This has to be the vilest and nastiest beer Iíve drank in my life. Itís not pleasant in any way or shape. It actually brought tears to my eyes at the thought of having to drink the whole 22 ounces and made me do the ďitís ickyĒ dance. Any of you with young kids knows what Iím talking about. Iím not joking when I warn you, for the love of all that is good and right in the world, DO NOT DRINK THIS BEER. I give it .5 out of 10. Yes, point five out of ten.
Now if youíll excuse me Iím going to go gargle with Everclear.

Posted by Contagion in Alcohol at March 5, 2008 06:21 PM | TrackBack