April 01, 2008
No GHT here!
Since tomorrow night Iím going to be packing and getting ready to head to Fort Des Chartres, I thought I should do my beer review tonight. That and with Ktreva being out of town and the boys running rampant all over me, I figured I could use a beerÖ or twelve. Tonightís brew is one that many people have been waiting for me to do. Itís a beer that anyone that has been drinking with me knows is probably one of my favorite beers to drink. Plus Ktreva sponsored this one before she left. She knew I was going to have a hard time with her gone and she left me an emergency sixer. Tonight I review Miller Lite by the Miller Brewing Company.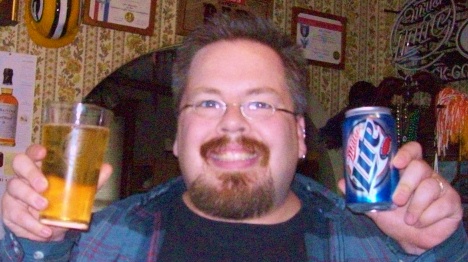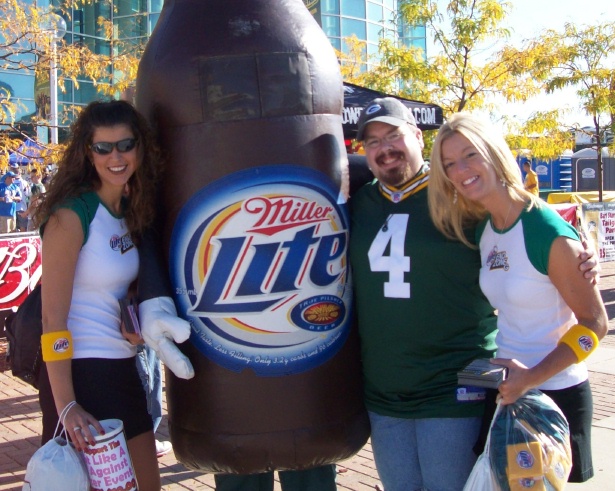 Some Miller Lite Girls, Litey and me at a Packer game.

The method of delivery this time was a 12 oz aluminum can. Itís blue in color with the Miller Lite logo in an oval tilted sideways. The can boasts all kinds of awards it has won, including the World Beer Cup Gold Award for Best American-style Light Lager in 2006,2002,1998 and 1996. None of the other beers Iíve review can claim this!
In the glass itís a light straw yellow color. Light passes through it easily; there isnít a hint of cloudiness or impurities to it. When it was poured it formed an inch thick white head that faded quickly to a patching film on top. There was some lacing, but really not much to speak of.
The aroma has a slight metallic hint to it. Itís not because it came from a can. Iíve drunk enough of this to know that itís like this from a bottle too. The main sent is a mix of grains and bread. The taste is Mild and unoffending. You can taste some malts, but not much. Itís pretty watery. There really is no after taste, in fact if you eat anything while drinking this beer that pretty much becomes the flavor and aftertaste of it.
This is a light bodied beer. There isnít much to it. The mouthfeel is like you are drinking a glass of carbonated water.
Overall I think this has to be one of the greatest beers on the market. It goes with everything. You can enjoy one with a lobster or a microwave burrito. There really is nothing that Miller Lite doesnít go with. Because of that I give this a 9 out of 10. Itís a damn good beerÖ at a damn good price.
Okay, yes April Fools. I actually give this beer a 3.5 out of 10. It really is one of my favorite beers to drink. Mainly because 90% of the time I can get one in any bar or any stadium that I go to. That and I can still get a case of it for under $15.00. And even though this was partially an April foolís joke, the review above is accurate. Over the years Iíve had friends make fun of me over my dedication to Miller Lite. Such comments as, ďHow can you be such a beer snob and still drink Miller Lite?Ē or ďFor someone with a distinguished beer pallet why do you drink Miller Lite all the time?Ē The answer folks is simple. Yes, I love beer. I love really good beer. But sometimes I donít feel like spending $20.00 for two six packs when I can get 24 for $15.00 and I really donít like spending $100.00 in a bar tabs when I can spend $35.00. Special occasions, beer tastings and when Iím in the mood is when I prefer a higher quality beer. Sitting around the house watching the game and shooting the shit with the friends, give me a Miller Lite. Plus itís the official beer of Lambeau Field.

Posted by Contagion in Alcohol at April 1, 2008 05:32 PM | TrackBack