July 23, 2008
Miner Mishap
Since Iím in Oklahoma Iím going out of my way to find beers that are brewed either here in the OK or ones in the surrounding states (Texas, Arkansas, Kansas) that I canít find at home. It took me four stops in two days to find one, and then I ended up having to ask a local that Iím training in order to find a place that sold something other than big brands. Finally I found a pretty good store that had a decent selection. Tonight Iím going to be reviewing Miner Mishap by the Choc Beer Company in Krebs, Oklahoma.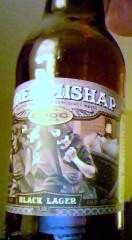 Sorry for the crappy photo, I had to use my webcam on the laptop to take it.
We have our normal brown 12 oz bottle. There is a two tone picture of two miners carrying another miner between them in what appears to be a... mine. The name of the beer is in that late Eighteenth century western script. At the bottom they state this is a black lager.
There is a dark brown color to it. Light passes through it, but you canít see what is on the other side of the glass clearly. Itís dark enough that I canít tell if there is any cloudiness to it. The head was about quarter of an inch thick and consisted of tiny tan bubbles that gave it a thick and creamy appearance. It slowly faded to a thin film on the top of the beer. There is a bit of lacing on the side of the glass, but not much.
It has a nice roasted chocolate and caramel malt sent to it, just as the label describes. There is a touch of a coffee scent to it as well. You can also detect just a hint of hops. The smell is a pretty good indicator of the taste. The chocolate and roasted malts really come through. There is a slight mineral water taste to it. It finishes with a mild hoppiness. As the beer starts to warm, the hop flavors start to be more noticeable.
This is a medium bodied beer. The carbonation bites a little on the tongue.
They advertise this as schwarzbier, but it almost has more of a porter taste to it. Over all it isnít a bad beer. I found it rather pleasant to drink. I give it 6 out of 10.

Posted by Contagion in Alcohol at July 23, 2008 09:04 PM | TrackBack