June 10, 2006
Not what I had in mind
Almost two months ago I made a post regarding video clips of people putting Mentos into diet pop (Yes, pop. Not soda, not coke, but pop!) and making fountains. At that time I had asked title the post, "Oh the possibilities." I was thinking along the lines of practical jokes and things like that. Well two guys decided to take the idea to a level that just baffles the mind as to why.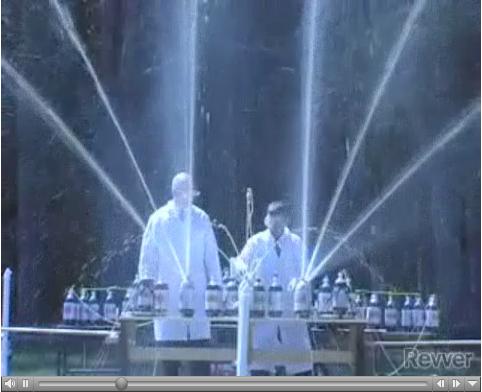 Click to watch video
What happens when you combine 200 liters of Diet Coke and over 500 Mentos mints? It's amazing and completely insane.

The first part of this video demonstrates a simple geyser, and the second part shows just how extreme it can get. Over one hundred jets of soda fly into the air in less than three minutes.

It's a hysterical and spectacular mint-powered version of the Bellagio Fountains in Las Vegas, brought to you by the mad scientists at EepyBird.com.
It's amusing, but it is a large file. I wish I had $200 to $300 to throw down the drain… or spill onto the ground.
Posted by Contagion in Things that make me go, "GUH?!?!" at June 10, 2006 08:25 AM | TrackBack