May 21, 2007
Moving on down?
Since Ktreva and I started re-enacting, we've always had a large tent. In fact for wall tents we have what's considered to be a larger then normal one. Yes, there are wall tents larger then ours, but you just don't see them that often. However, we've decided to downsize. We've had enough of these large set-ups at events that we don't need that much in order to participate. Normally our little wedge tent would be enough, but sometimes we need just a little more for the boys or if I decide to do an event alone, I don't need to bring that much gear with. So I bought myself a field tarp. What's a field tarp? It's roughly a 10 foot by 10 foot piece of canvas with ties on it. See: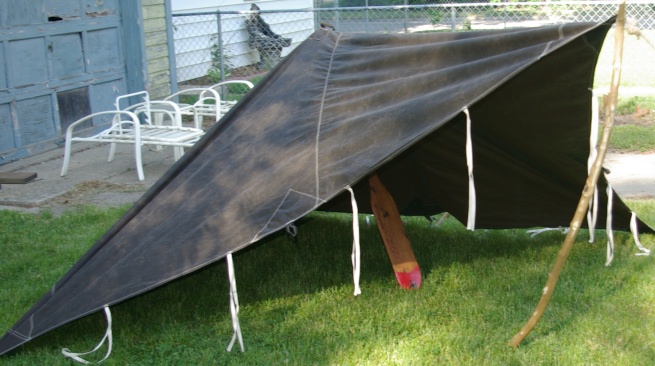 Of if you want to see what it looks like on the inside:
It's actually more roomy then it looks. Now, this is just one way of setting it up, there are so many different styles that it would be almost impossible for me to list them all.
Oh, and the best part is that it took me all of about 5 minutes to set it up.

Posted by Contagion in Re-enacting life. at May 21, 2007 08:13 PM | TrackBack