July 11, 2007
Bully! Porter
This weeks review is courtesy of Bloodspite. He personally brought this beer to me all the way from Southwest Missouri. What a great man. He said there was another beer he wanted me to review, but they were out so he picked this one up instead. What he choose was Bully! Porter by the Boulevard Brewing Co from Kansas City, MO.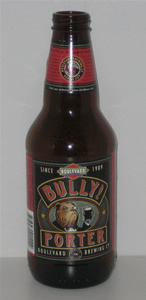 It comes in the squat 12 oz brown bottle. The main label has a picture of a bulldog with a monocle holding a pint in his left hand. In big red letters above the pictures is the word BULLY! In the same script below is read PORTER. On the red neck label there is a little blurb about the beer itself as well as the breweryís logo. I do believe they are trying to give this beer an English look.
There is a dark coffee color to the beer with a hint of dark red. Light reluctantly passes through it, and itís too dark to tell if there is any cloudiness to it at all. It pours a very thick tan head that is long lasting. Heck Iím almost done with the pint and there is still a head on the beer. It leaves some lacing on the side of the glass.
You can smell a combination of roasted coffee and chocolate malts easily. There is a citrus and floral hop background to the scent that is almost completely overpowered by the scent of the malts. The taste is a nice combination of coffee and chocolate roasted malts. There is a slight hop bitterness to the finish, but it helps add to the flavor and isnít distracting. It has a mildly bitter aftertaste, but it isnít lingering or unpleasant.
It is a medium bodied beer with a high level of carbonation. To be honest the carbonation is a little on the strong side for my likes, but not unpleasantly so.
Iím very pleased with this beer. I should not be surprised since after the last couple of times sharing a pint with Bloodspite, I know he has a good taste in beer. Iím going to be heading through KC in a couple of weeks, I may have to stop and pick me up another six-pack of it. Overall Iím going to give this a 6.5 out of 10.

Posted by Contagion in Alcohol at July 11, 2007 05:45 PM | TrackBack