August 08, 2007
Flood pictures.
Yesterday while draining the basement I took a couple of breaks to get some pictures of what was going on in my neighborhood. When the pump was going, there really is nothing much else I can do. Well I guess I could try to splash water toward the pump.
I thought I would share with all of you just exactly how close this was to my house.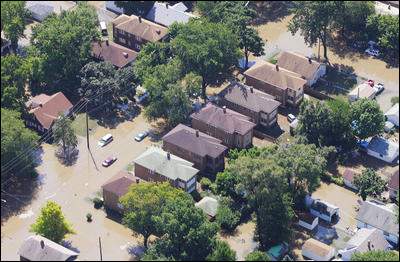 Okay, obviously I did NOT take the above picture, I found it online. But it shows what my neighborhood looked like. This picture is actually 3 blocks north of our house.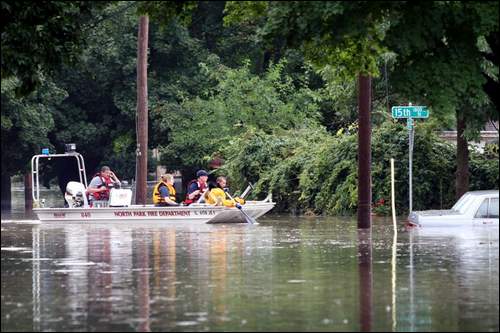 This is also not a picture I took, but I didn't get any good ones of the boats in the water. When I found the above picture I found this one as well. This was about four blocks directly north of me.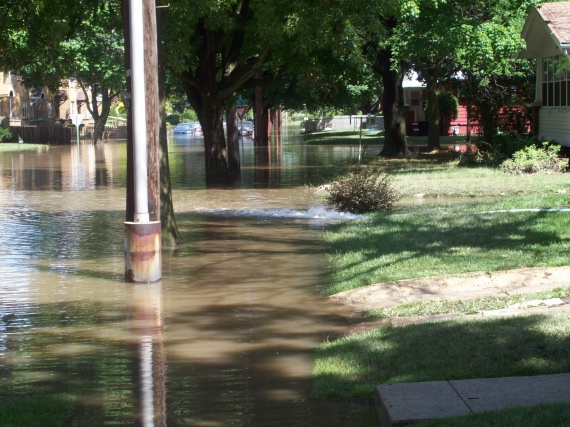 This was three blocks directly north of me after the water had subsided a lot already. I spoke with this gentleman and he was telling me his story. He stated that last year when it flooded he didn't have any structural damage, but he lost a lot of personal items and belongings. They were still trying to recover from having to buy new appliances, furniture, carpet, clothes, etc and paying to have it cleaned out. Now all the stuff that they had replaced is gone. He doesn't have the funds to be able to replace it this time.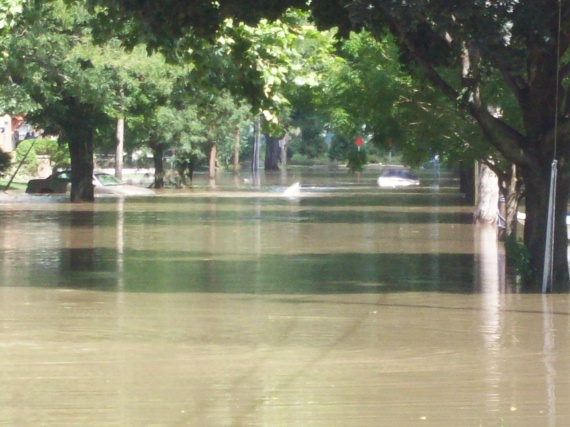 I'm sorry for the quality of this picture. The battery was dead on my good camera, so I had to use Ktreva's little point and click digital. It takes good close up pictures, but not at a distance. What I was trying to get was the water geysering up out of the water. This was taken hours after the city officials stated that the flood waters were subsiding, and gave a clear for people in the surrounding areas to return to their homes. Yet as you can see there was still enough pressure running through the storm drains to cause water spouts in 2-3 feet of water.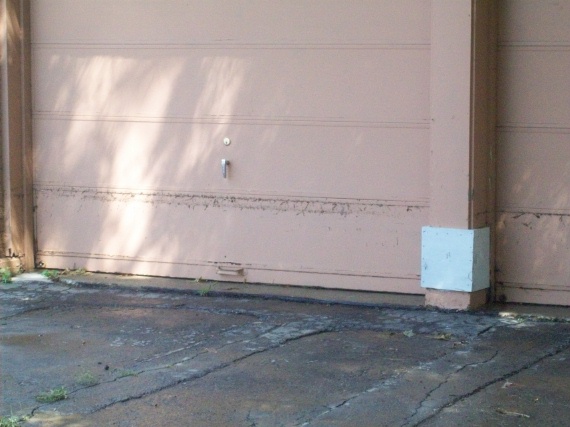 This picture was taken after the flood waters had subsided a lot. This is a garage door that is almost exactly 500 feet from my property. You can see how high the water reached. It was about a 15 inches deep there. If you look out of my back yard toward this garage there doesn't appear to be much, if any incline at all, but obviously there is as the flood waters did not make it to my property. Yes, I had about 11 inches of water in my basement, but nothing that bad... thankfully.
I honestly feel that the majority of this could have been prevented. Maybe not completely, but at least reduce the amount of damage. The city has known for a while that Keith Creek needed work, but all they have done is sat in committee and made plans. They've stated there is no money. Yet they can find money to buy a Hockey team, redo the Metrecentre, build a riverwalk, have a study for a white water rafting park, etc. But they can't even fork out the money to clean out the creek bed of debris and sediment.
Our city administrator Jim "I got a DUI in a government vehicle and kept my job" Ryan stated they cleaned out parts of the creek. I'm not sure where, but nowhere near where I lived. Those creek beds where filled with plants and debris in my neighborhood. FYI the creek is housed in a man made cement drainage ditch. He also made the statement that cleaning them out wouldn't have prevented the flooding. He doesn't know that for sure, but using his same sense of omnipotence I can say that it sure would have lessened the overall impact.

Posted by Contagion in Stories about me. at August 8, 2007 08:30 AM | TrackBack